IAALS Honors Task Force Dedicated to Reshaping the American Civil Justice System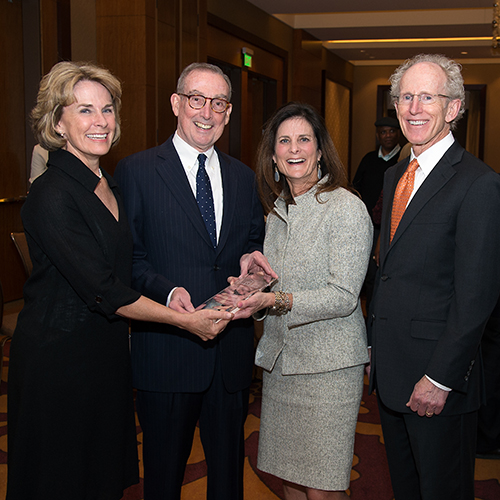 Last week, IAALS honored the American College of Trial Lawyers (ACTL) Task Force on Discovery and Civil Justice at the 8th Annual Rebuilding Justice Award Dinner in downtown Denver.
With profound gratitude, we recognized the dedication of the Task Force in literally jump-starting a nationwide movement to reform the American civil justice system. Our partnership with them over the last eight years has returned dividends, with movement now underway across the country to help make the process less expensive, less prolonged, and more efficient for everyone involved.
"My gratitude is boundless for who they are and the commitment that they have made. It's been an honor, a pleasure, a privilege to work side-by-side with them," said IAALS Executive Director Rebecca Love Kourlis. "We never would be where we are in this civil justice reform movement without the Task Force."
The Task Force partnership with IAALS has resulted in several publications, recommendations for improvement, and pilot projects across the country that experiment with changes to make the civil justice system more accessible, affordable, and just.
Task Force Chair Paul Saunders is proud of the impact the Task Force has had, but said the work is far from over. "The legacy of the work that we did will be continued discussion and debate and, ultimately, changes in the system."
For more on the latest IAALS and ACTL Task Force recommendations that are circulating nationwide, click here.
Photo: IAALS Executive Director Rebecca Love Kourlis, Paul Saunders, Hon. Ann Frick, and ACTL President Fran Wikstrom.