"Modern Family Court Judge" Republished in Family Court Review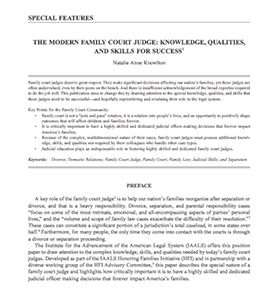 The Modern Family Court Judge: Knowledge, Qualities, and Skills for Success, originally published by the Honoring Families Initiative in October 2014, has been republished in the April 2015 edition of Family Court Review.
The paper focuses on the broad spectrum of legal and non-legal issues family court judges deal with, including social work, psychology, immigration, estate planning, contracts, and criminal law. It also highlights the complex knowledge, qualities, and skills that the modern family court judge needs in order to be successful.