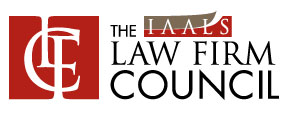 The IAALS Law Firm Council (LFC) is comprised of distinguished firms from around the country. Firms who join the LFC participate in the IAALS solution-based process and have a voice at the table of meaningful and impactful reform within the system.
Member firms invest in IAALS both intellectually and financially.
If you are interested in learning more about the Council and what it entails, please contact Marie Jackson, Administrative Assistant for Strategic Partnerships, at 303-871-6603 or Marie.Jackson@du.edu.