The Curtis Hotel
1405 Curtis Street
Denver, CO 80202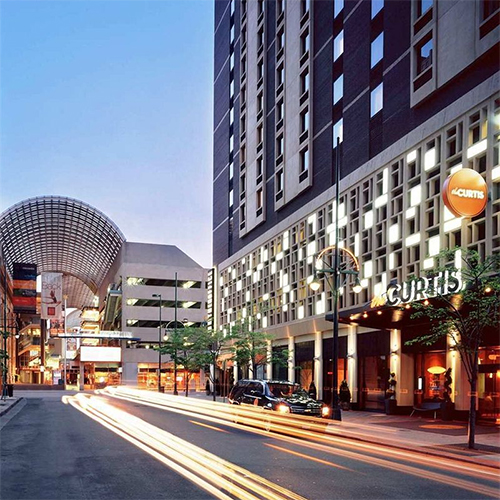 Contemporary design meets good old-fashioned fun at this unique hotel in downtown Denver. Discover a vast array of arts, entertainment, and sports venues near Curtis Denver – a DoubleTree by Hilton Hotel. Be welcomed with a warm chocolate chip cookie on arrival. Play a game of rock-paper-scissors, and then browse our Denver hotel's library. The Five & Dime store brims with treats from the past. Each guest floor is designed to reflect a pop theme from TV to music to art or sports and beyond.
We have reserved a block of rooms for the nights of Wednesday, September 21; Thursday, September 22; and Friday, September 23. The room rate is $172.00 per night; this rate is available for reservations made by Monday, August 29, or until the room block is full, whichever comes first. Please make your reservation here, or call (303) 571-0300/(800) 525-6651 and indicate that you are attending the 5th Annual Educating Tomorrow's Lawyers Conference.
Privacy Statement
The University of Denver maintains Privacy Guidelines at http://www.du.edu/privacy and endeavors to take reasonable precautions to maintain privacy and security within the sphere of its operations.
Questions
For more information or assistance with the logistics of this conference (hotel, travel, special needs, etc.), please contact Amy Downing, IAALS Special Events Coordinator, amy.downing@du.edu or 303-871-6649.
For questions or information about the agenda or program of the conference please contact Caitlin Anderson, Legal Assistant, Educating Tomorrow's Lawyers, caitlin.anderson@du.edu or 303-871-6624.