Educating Tomorrow's Lawyers... to Serve Tomorrow's Clients
6th Annual Educating Tomorrow's Lawyers Conference
October 5th, 2017
to
October 7th, 2017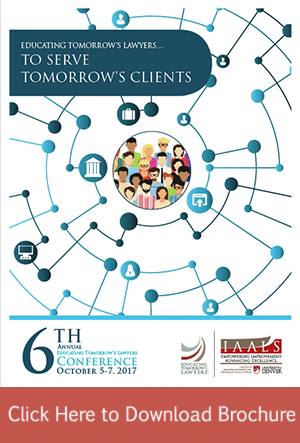 As the institutions entrusted with educating lawyers, law schools are uniquely positioned to ensure that new lawyers are not only prepared to enter the profession, but also to serve clients. The 2017 Educating Tomorrow's Lawyers Conference puts clients front and center by exploring client needs; by showcasing lawyers, organizations, and others leading the way to improved delivery of legal services; and by tapping into the collective wisdom of innovative legal educators to bring these concepts to life in law schools.
As always, the conference's interactive format will spark discussions, solutions, and long-lasting professional camaraderie. Last year's conference attracted over 100 attendees from 29 law schools, 20 states, and 5 countries.

ETL17 will offer plenary talks, panels, Ignite presentations, and in-depth content to challenge educators, while also providing an introduction to the tools, technologies, and methods lawyers are using to serve clients and legal consumers in today's changing world.