Learning Outcomes for Hire
5th Annual Educating Tomorrow's Lawyers Conference
September 22nd, 2016
to
September 24th, 2016
A Signal to Employers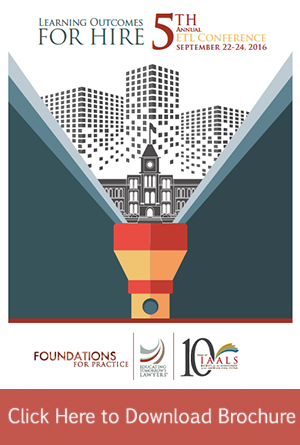 Law schools across the country are talking about learning outcomes—what should they be, how do you develop them, and how do you measure them? But what if learning outcomes could be more than an ABA requirement and an internal tool to evaluate student learning objectives? What if learning outcomes could also signal to legal employers that students have the foundations they desire in their workplace?
Our 5th Annual Educating Tomorrow's Lawyers Conference: Learning Outcomes for Hire will focus on how to create meaningful learning outcomes, how to measure whether those outcomes are being met, and how to turn those outcomes into tangible hiring criteria for legal employers. The conference will be held in Denver on September 22-24, 2016.
Building on the success of our last four Educating Tomorrow's Lawyers conferences, the data from our Foundations for Practice project, and the wisdom of the conference participants, this highly interactive conference will support collaboration and spark innovation—in your school and across the broader movement to reshape legal education.

Register now for the 5th Annual Educating Tomorrow's Lawyers Conference.
The Curtis Hotel is located at 1405 Curtis Street in downtown Denver. Contemporary design meets good old-fashioned fun at this unique hotel.
The Conference will begin the afternoon of Thursday, September 22, and conclude before noon on Saturday, September 24.