In late 2014, we launched Foundations for Practice, a national, multi-year project designed to:
Identify the foundations entry-level lawyers need to launch successful careers in the legal profession;
Develop measurable models of legal education that support those foundations; and
Align market needs with hiring practices to incentivize positive improvements in legal education.
To meet the first objective, we developed a national survey to ascertain the legal profession's perspective on the legal skills, professional competencies, and characteristics (collectively, "foundations") that new lawyers need to succeed. Then, in partnership with state bar organizations across the country and generous individuals willing to champion the effort, we administered the survey in 37 states during the fourth quarter of 2014 and the first quarter of 2015. The survey was sent to an estimated 780,694 lawyers, and a total of 24,137 lawyers—with office locations in all 50 states and representing most practice settings and areas of expertise—submitted valid responses.(9)
The survey included two substantive sections. First, we presented a list of 147 foundations(10) and asked respondents to indicate, for their specific type of organization, specialty, or department, whether the foundation was:
"Necessary immediately for the new lawyer's success in the short term" (where "new lawyer" was defined as "someone embarking on their first year of law-related work");
"Not necessary in the short term but must be acquired for the lawyer's continued success over time";
"Not necessary at any point but advantageous to the lawyer's success"; or
"Not relevant to success."
The results of this section of the survey were documented in a report we released in July 2016.(11) In short, respondents definitively said that new lawyers need character. "When we talk about what makes people—not just lawyers—successful we have come to accept that they require some threshold intelligence quotient (IQ) and, in more recent years, that they also require a favorable emotional intelligence (EQ). Our findings suggest that lawyers also require some level of character quotient (CQ)."(12) More broadly, respondents indicated that new graduates must have a combination of characteristics, professional competencies, and legal skills comprising the "whole lawyer."(13)
The survey was designed to give us a broader view into exactly what new lawyers need as they embark on their careers, but from the beginning we knew that in order to make use of this information, we needed a better understanding of how hiring happens—or, rather, how hiring would look if the profession hired based on the foundations it desired. This informed our development of the second section of the survey, which is the focus of this report. In that section, we asked respondents to indicate the helpfulness of seventeen distinct hiring criteria in determining whether a candidate for employment has the foundations they identified as important; that is, rather than asking about current hiring practices or what experiences or accomplishments they value in hiring, we effectively asked them to reflect on their responses to the 147 foundations presented in the survey and to indicate which of the seventeen hiring criteria presented would be useful in determining whether a candidate possesses the necessary foundations:(14)

Law school attended

Class rank

Law review experience

Journal experience

Legal employment

Legal externship

Participation in law school clinic

Other experiential education

Law school courses in a particular specialty

Law school certification in a particular specialty

Recommendations from professors

Recommendations from practitioners or judges

Extracurricular activities

Life experience between college and law school

State court clerkship

Federal court clerkship

Ties to a particular geographic location
All Criteria Are Helpful
Unsurprisingly, respondents indicated that the full list of criteria was helpful in hiring. In fact, only one of the seventeen criteria was considered helpful by less than half of respondents. Further, the largest proportion of respondents to indicate any one criterion is either somewhat or very unhelpful was 14%.
Still, respondents conveyed preferences for some criteria over others. Differences in the helpfulness of criteriae merged, particularly with respect to the proportion of respondents who categorized the criteria as very helpful contrasted with the proportion who categorized the criteria as neither helpful nor unhelpful. Indeed, the proportions of respondents who selected very helpful ranged from 9% to 54%; similarly, the proportions of respondents who selected neither helpful nor unhelpful ranged from 6% to 38%. The proportions of respondents selecting other options remained relatively stable for all seventeen criteria.
Figure 1: Helpfulness of All Hiring Criteria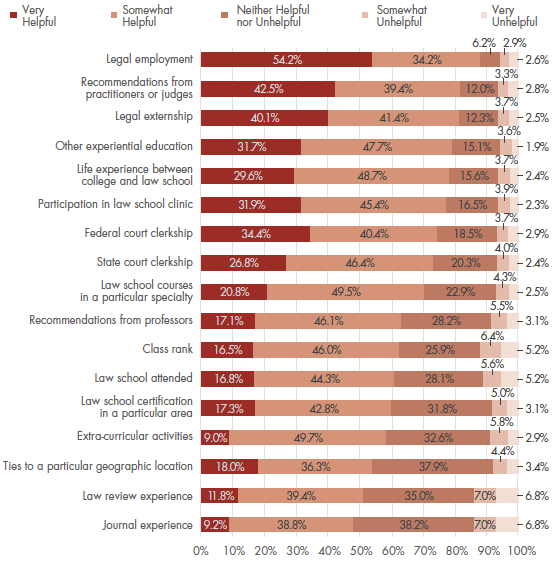 Trending Toward Practical Experience
To help conceptualize the results, we have grouped the criteria into three categories. The table below presents the hiring criteria as we categorized them.
Table 1: Hiring Criteria Categories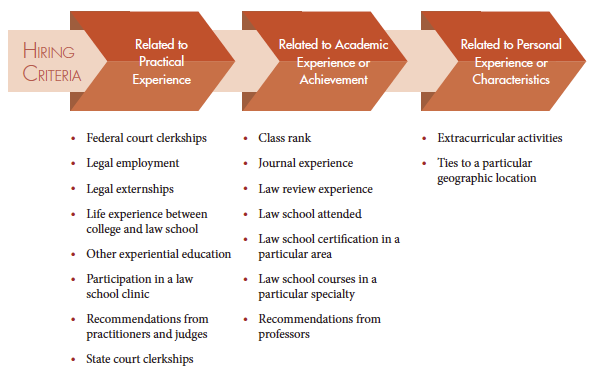 While all criteria were found to be far more helpful than unhelpful, one trend was notable. Respondents tended to rate criteria related to practical experience as more helpful than other criteria. Indeed, eight of the top ten most helpful criteria fall under the practical experience umbrella. Only two of the top ten most helpful hiring criteria were related to academic experience or achievement. This suggests that hiring lawyers tend to view experience actually working in the law as indicative of a new lawyer possessing the foundations necessary for success. This raised the question: do the seresults change when we look at responses across certain respondent demographic characteristics?
Figure 2: Top Ten Most Helpful Hiring Criteria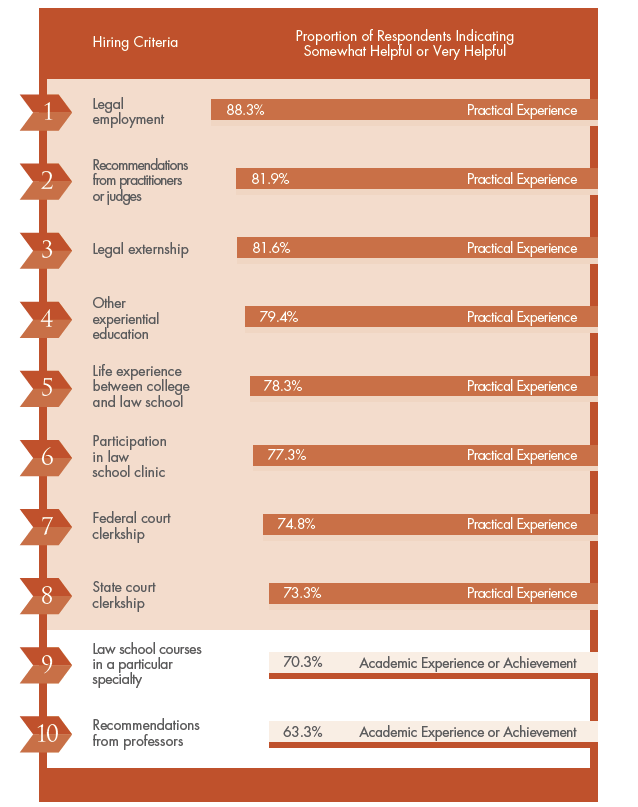 Endnotes:
9. For a full report on our survey methodology, see ALLI GERKMAN & LOGAN CORNETT, FOUNDATIONS FOR PRACTICE: SURVEY OVERVIEW AND METHODOLOGICAL APPROACH (2016), available at http://iaals.du.edu/sites/default/files/documents/publications/foundations_for_practice_survey_overview_and_methodological_approach.pdf.
10. "Foundations" include legal skills, characteristics, and professional competencies.
11. THE WHOLE LAWYER, supra note 1, at 4.
12. Id. at 1.
13. Id.
14. The survey also included a "Don't Know" response option for the hiring criteria items. Respondents who selected "Don't Know" for a given criterion have been removed from analysis for that criterion.