The employment gap for law school graduates is well-documented. Almost 40% of 2015 law graduates did not secure full-time jobs requiring a law license and only 70% of 2015 graduates landed a full-time job that either required a law license or gave a preference to candidates with a juris doctor. One in four 2015 graduates did not report having any type of job, even a non-professional job, after law school.(1)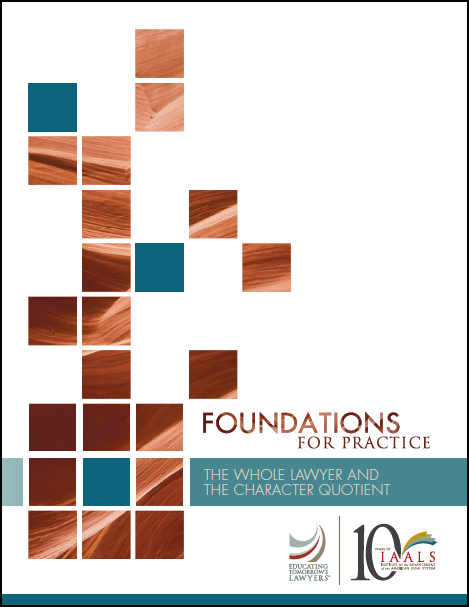 The employment gap is exacerbated by another gap: the gap between the skillset lawyers want in new graduates and the skillset lawyers believe new graduates have. Only 23% of practitioners believe new lawyers have sufficient skills to practice.(2)
The gap between what new lawyers have and what new lawyers need exacerbates the employment problem, but it is even more insidious than that. When new lawyers enter the workforce unprepared or under-prepared, it undermines the public trust in our legal system. Something has to shift. And for something to shift, we had to understand exactly what new lawyers need as they entered the profession.
So we asked. In late 2014, we launched Foundations for Practice ("FFP"), a national, multi-year project designed to:
Identify the foundations entry-level lawyers need to launch successful careers in the legal profession;
Develop measurable models of legal education that support those foundations; and
Align market needs with hiring practices to incentivize positive improvements in legal education.
In 2014-15, we distributed a survey to lawyers across the country. The response was overwhelming. More than 24,000 lawyers in all 50 states from a range of backgrounds and practice settings answered. Their answers are illuminating and pose opportunities and challenges to the schools that educate lawyers and the employers that ultimately hire them.
The Character Quotient
First, new lawyers need character. In fact, 76% of characteristics (things like integrity, work ethic, common sense, and resilience) were identified by a majority of respondents as necessary right out of law school. When we talk about what makes people—not just lawyers— successful we have come to accept that they require some threshold intelligence quotient (IQ) and, in more recent years, that they also require a favorable emotional intelligence (EQ). Our findings suggest that lawyers also require some level of character quotient (CQ).
The Whole Lawyer
Second, successful entry-level lawyers are not merely legal technicians, nor are they merely cognitive powerhouses. The current dichotomous debate that places "law school as trade school" up against "law school as intellectual endeavor" is missing the sweet spot and the vision of what legal education could be and what type of lawyers it should be producing. New lawyers need some legal skills and require intelligence, but they are successful when they come to the job with a much broader blend of legal skills, professional competencies, and characteristics that comprise the whole lawyer.
Something for Everyone
We often think of the challenges in legal education as a law school problem. Indeed, there are steps law schools and legal educators can and must take to improve the way they educate lawyers. But law schools are not alone in their responsibility for today's challenges, nor are they alone in their responsibility to address them. The legal profession and, notably, legal employers play a significant and often underestimated role in the perpetuation of the current system—a system with which they are disenchanted. When they fail to hire entry-level lawyers based on the skills, professional competencies, and characteristics they desire, and hire instead on traditional criteria (such as prestige of law school, class rank, and law review) they create incentives for law schools that are misaligned with the objectives toward which we all must work. Using the results of Foundations for Practice, law schools and the legal profession are empowered to join forces to tackle the greatest problems in legal education head on.
When law schools educate students toward learning outcomes developed with feedback from employers and employers hire based on what they say they want, we will see law school graduates with high character quotients who embody the whole lawyer, we will see the employment gap shrink, we will see clients who are served by the most competent lawyers the system can produce, and we will ultimately see public trust in our system expand.
Endnotes:
1. These numbers reflect long-term/full-time employment outcomes for 2015 graduates 10 months after graduation. Am. Bar Ass'n Section of Legal Ed. – Employment Summary Report, http://employmentsummary.abaquestionnaire.org/ (select 2015 class under "Compilation-All Schools Data") [hereinafter ABA Emloyment Summary Report].
2. The BARBRI Group, State of the Legal Field Survey 6 (2015), available at http://www.thebarbrigroup.com/files/whitepapers/220173_bar_research-summary_1502_v09.pdf.
Authors
Director, Educating Tomorrow's Lawyers