Daniel Ritchie Recognized for DU's Momentum Shift and Selection as Host of Presidential Debate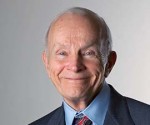 Dan Ritchie, IAALS board member and founder and former University of Denver chancellor, is often credited with bringing DU to the national stage of academia. And, as noted by the Denver Post, he can be credited further as laying the foundation for the university to host the first 2012 presidential debate.
During his tenure at DU from 1989 to 2005, Ritchie transformed the school, "elevating it to a nationally respected institution that draws an international student body and top academics." Ritchie refused a paycheck as chancellor, leading by example to invest in the institution and its future. Ritchie enlisted the support of the faculty, administration, and athletics to bolster DU's strengths and to fill the gaps where improvement was needed.
Those who worked with Ritchie attest to his "renaissance vision," one that changed the culture of the university and continues to bring the international spotlight to Denver.