Rebuilding Justice Award Dinner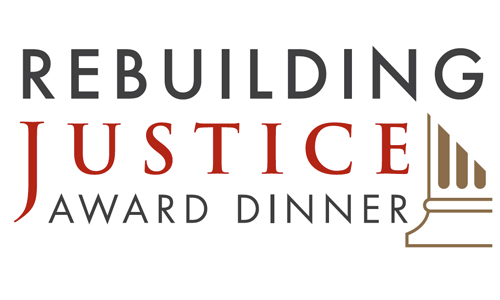 The IAALS Rebuilding Justice Award recognizes individuals who exemplify the spirit of innovation and leadership that we champion as we work toward building a legal system that is accessible, fair, reliable, efficient, and accountable.
The first recipient of the IAALS Rebuilding Justice Award was United States Supreme Court Justice Sandra Day O'Connor (Ret.) in 2007. IAALS has given the award to chief justices of state supreme courts, legislators, federal district court judges, legal educators, and philanthropists. Formerly, the honor was known as the Transparent Courthouse Award.
Recipients
2020
Margaret Hagan
Chief Justice Mark Cady (posthumously), Iowa Supreme Court
2019
The William and Flora Hewlett Foundation
Columbia Law School
University of Denver Sturm College of Law
Northwestern Pritzker School of Law
Seattle University School of Law
2018
The Conference of Chief Justices
2017
El Pomar Foundation, William J. Hybl, and Kyle H. Hybl
2016
2015
American College of Trial Lawyers Task Force on Discovery and Civil Justice
2014
Chief Justice Michael L. Bender (Ret.), Colorado Supreme Court
Chancellor Robert D. Coombe, University of Denver
2012
James E. Moliterno, Vincent Bradford Professor of Law, Washington and Lee University School of Law
2011
Judge Mark R. Kravitz, United States District Court for the District of Connecticut
Judge Lee H. Rosenthal, United States District Court for the Southern District of Texas, Houston Division
Judge John G. Koeltl, United States District Court for the Southern District of New York
2010
Nevada Senator William J. Raggio
Nevada Assembly Speaker Barbara E. Buckley
Chief Justice Thomas J. Moyer (posthumously), Ohio Supreme Court
2009
Chief Justice John Broderick, Jr., New Hampshire Supreme Court
2008
Chief Justice Christine Durham, Utah Supreme Court
2007
Justice Sandra Day O'Connor (Ret.), United States Supreme Court