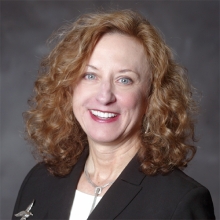 Director, Sayra and Neil Meyerhoff Center for Families, Children and the Courts
Editor, Family Court Review
Barbara A. Babb is an Associate Professor and Founder and Director of the Sayra and Neil Meyerhoff Center for Families, Children and the Courts at the University of Baltimore School of Law, where she has taught various family law courses since 1989. During the Spring 1999 Semester, Professor Babb was a Visiting Professor of Law at the George Washington University School of Law. Professor Babb's scholarship focuses on an interdisciplinary approach to family law jurisprudence through the application of therapeutic jurisprudence and an ecological/holistic perspective and to court reform in family law through the creation of unified family courts. She has written and spoken extensively at the state, national, and international levels about unified family courts, family justice system reform, and family law decision-making. Further, she has participated in court and law reform projects in Maryland, nationally, and internationally. In recognition of her work, Professor Babb has received the University System of Maryland Regents' Award for Outstanding Public Service, the first Benjamin L. Cardin Distinguished Service Award, the Rosalyn B. Bell Award for Outstanding Contributions in Family Law, two Outstanding Teaching Awards from the School of Law, and a designation as one of the Maryland Legal Aid Bureau's Human Rights and Justice Champions.
Professor Babb is a past Chair and current Executive Committee Member of the Association of American Law Schools Family and Juvenile Law Section. She is a former special advisor to and former member of the American Bar Association Standing Committee on Substance Abuse, where she actively participated in the committee's unified family courts project, Communities, Families, and the Justice System. She is the former ABA Section of Family Law Liaison to the Standing Committee on Substance Abuse and the former Co-Chair of the ABA Section of Family Law's Family Courts Committee. She is a member of the New York and Maryland bars and has practiced law extensively in both states. Professor Babb is a member of the Editorial Advisory Board of the Family Court Review.
Her scholarship has been widely published in law reviews, journals, and other legal forums, and has been recognized by national organizations, including the Association of Family and Conciliation Courts, which selected Professor Babb as the 2015 recipient of the Stanley Cohen Distinguished Research Award.
She received her J.D. from Cornell Law School in 1981, an M.S. from Cornell University in 1978, and a B.S. from the Pennsylvania State University in 1973.