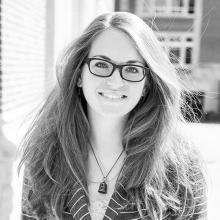 Logan Cornett serves as IAALS' Senior Research Analyst. In this role, she works closely with initiative directors in developing research questions for investigation, designing and conducting studies to answer identified research questions, manipulating and analyzing both quantitative and qualitative data sets, and producing formal reports detailing findings and results.
Cornett came to IAALS in August 2011after having worked in Outcomes Management at Texas Tech University Health Sciences Center. Prior to that, Cornett worked as an Instructor of Research Methods in Psychology at Oregon State University. In addition, she served as Lab Manager for the Attention and Performance Cognitive Psychology Lab, also at Oregon State, where she helped develop and conduct experiments on attention and reading using electroencephalography (EEG) techniques.
Cornett received her B.S. in Psychology from Oregon State University. While at Oregon State, she received the Undergraduate Research, Innovation, Scholarship, and Creativity (URISC) Award for 2006, which provided funding for her to complete a research project of her own design. Additionally, she was the recipient of the Junior Scholar Award for the Spring of 2006 and the Outstanding Seniors Award for the 2006-2007 academic year. Cornett graduated summa cum laude from Oregon State in 2007.
Speaking Engagements
Presenter, World Congress on Family Law and Children's Rights, June 2017: "Out-of-Court and In Collaboration: Evaluating an Interdisciplinary Model for Separation and Divorce in a University Campus Setting"
Speaker, Psychonomic Society 2007 Annual Meeting: "Electrophysiological evidence that semantic visual word processing requires spatial attention"
Speaker, Psychonomic Society 2007 Annual Meeting: "Even attentional capture by singletons is contingent on top-down control settings"
Speaker, Psychonomic Society 2006 Annual Meeting: "Assessing automatic word recognition using event-related potentials"
External Publications
Coauthor, Attentional capture by singletons is contingent on top-down control settings: Evidence from electrophysiological measures, Visual Cognition, 18, 682-727 (2010) (link).
Coauthor, On the non-automaticity of visual word processing: Electrophysiological evidence that word processing requires central attention, Journal of Experimental Psychology: Human Perception and Performance, 34, 751-773 (2008) (link).
Education
B.S., Psychology, Oregon State University, summa cum laude