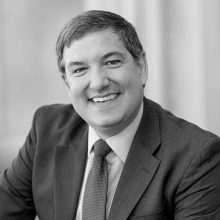 As one of the managers at IAALS, Zack DeMeola works with the directors and other managers on a variety of different projects spanning all of IAALS' Initiatives.
DeMeola joined IAALS in 2017 after having litigated in private practice for six years. DeMeola began his legal career in the Litigation & Dispute Resolution, Privacy, and Social Media law groups of Mayer Brown LLP in Los Angeles. Prior to joining IAALS, DeMeola was an associate at Baker Hostetler LLP, where he focused his practice on data breach and privacy issues, class action litigation defense, and complex commercial matters.
As an attorney, DeMeola values staying ahead of technology and its effect on developing law, and incorporated his understanding of those developments into creative and thoughtful advocacy for clients in and out of the courtroom. He has represented clients in the e-commerce, retail, health care, higher education, pharmaceutical, and public safety communications industries and advised clients on industry and regulatory trends regarding privacy and social media legal issues. DeMeola was also dedicated to pro bono work in his legal practice, and twice received awards from Mayer Brown for meeting the law firm's Pro Bono Challenge by billing well over 60 hours a year to pro bono services. His pro bono activities included working with the Alliance for Children's Rights to represent families at adoption hearings in Los Angeles and working alongside the ACLU while at Baker Hostetler in Colorado to reach a favorable settlement on behalf of two women who were wrongfully arrested and prosecuted for crimes they did not commit. In 2015, DeMeola was recognized as one of seven Colorado "up and coming lawyers" by Colorado Law Weekly.
DeMeola graduated from William & Mary School of Law in 2010, where he received the George Wythe and Ewell Awards for leadership and service. DeMeola also obtained a Master's degree in American Studies from the College of William and Mary, and received his Bachelor of Arts from the University of Pennsylvania.
Memberships & Affiliations
Member, American Bar Association
Member, Colorado Bar Association
Member, Denver Bar Association
Member, California State Bar
Recent Media Highlights
Legal News Line: Attorney: Seventh Circuit with Chance to Expand "Umbrella" of Previous Plaintiff-Friendly Data Breach Decision, 3/11/2016
Recent Speaking Engagements
Guest Lecturer, Advanced Litigation - eDiscovery and Case Management, Arapahoe Community College, Spring/Fall 2016 and Spring 2017
Panelist, "Key Issues & Ingredients of Compliant & Effective Information Governance: Compliance with Respect to Handling Data from Inside & Outside the U.S.," North Carolina Healthcare Information and Communications Alliance Inc., 12th Academic Medical Center Security & Privacy Conference on "Managing Security & Privacy in an Environment of Increased Risk & Threats," June 2016
External Publications
Editor and Contributing Author, 2016 Class Action Year-End Review, A Summary of Class Action Litigation in 2016, Privacy Section, Baker Hostetler LLP (2017).
Co-Author, Hazards of Cloud Computing: Using e-Discovery to Create Efficiencies in Business and Law, Law Week Colorado (2016).
Guest Editor, The Seventh Circuit Revisits Standing for Data Breach Class Actions, University of Cincinnati Law Review (2016).
Co-Author, FTC's Updated FAQ for Endorsements and Testimonials: Implications for Social Media Promotions and Sponsored Content, Brand Activation Association/Association of National Advertisers Legal Conference (2015).
Co-Author, Social Media and Separation Agreements: Reigning in the Impulse to "Share," LEXIS PRACTICE ADVISOR (2015).
Education
M.A., American Studies, College of William & Mary
J.D., William & Mary School of Law
B.A., History and International Relations, University of Pennsylvania