2015 Rebuilding Justice Award Honors ACTL Task Force on Discovery and Civil Justice
April 6, 2015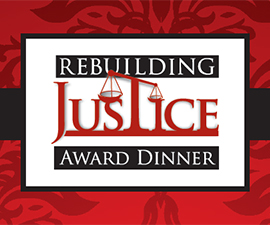 This month, IAALS—the Institute for the Advancement of the American Legal System at the University of Denver—will hold its annual Rebuilding Justice Award Dinner. The award recognizes individuals who exemplify the spirit of innovation and leadership that we champion across all of our work toward building a legal system that is fair, accessible, reliable, efficient, and accountable.
This year, we will honor the members of the American College of Trial Lawyers Task Force on Discovery and Civil Justice. The Task Force began its work with IAALS in 2008, with goal of generating a nationwide discussion about the state of our civil justice system and promoting active consideration of proposed changes to make the system more accessible, affordable, efficient, and just.
"Due in no small measure to the courage, tenacity, and selflessness of the Task Force members—individually and collectively—the project has been a resounding success," said IAALS Executive Director Rebecca Love Kourlis. "Backed by research, led by dedication, and implemented jurisdiction by jurisdiction, change is happening."
Members of ACTL Task Force on Discovery and Civil Justice award are:
Paul C. Saunders, Partner, Cravath, Swaine & Moore LLP, New York, New York (Chair)
The Hon. Ann B. Frick, Second Judicial District Court of Colorado, Denver, Colorado (Vice Chair)
E. Osborne Ayscue, Jr., Counsel, McGuire Woods, Charlotte, North Carolina (IAALS Liaison)
The Hon. John Broderick, Jr., Director, Rudman Institute, Concord, New Hampshire
Robert L. Byman, Partner, Jenner & Block, Chicago, Illinois
The Hon. Colin L. Campbell, Amicus Chambers, Toronto, Canada
The Hon. Philip R. Garrison, Shareholder, Polsinelli, Springfield, Missouri
James T. Gilbert, Partner, Coy, Gilbert, Shepherd & Wilson, Richmond, Kentucky
William T. Hangley, Shareholder, Hangley, Aronchick, Segal, Pudlin & Schiller, Philadelphia, Pennsylvania
Richard P. Holme, Senior of Counsel, Davis, Graham & Stubbs LLP, Denver, Colorado
Chris Kitchel, Partner, Stoel Rives LLP, Portland, Oregon
Lynette Labinger, Partner, Roney & Labinger, LLP, Providence, Rhode Island
Charles M. Meadows, Jr., Partner, Meadows, Collier, Reed, Cousins, Crouch & Ungerman, LLP, Dallas, Texas
Craig T. Merritt, Partner, Christian & Barton, LLP, Richmond, Virginia
Edward W. Mullinix, Retired Partner, Schnader, Philadelphia, Rennsylvania
Gordon W. Netzorg, Member, Sherman & Howard, Denver, Colorado
William Usher Norwood, III, Of Counsel, Pope, McGlamry, Kilpatrick, Morrison & Norwood, P.C., Atlanta, Georgia
Michael L. O'Donnell, Partner and Chairman, Wheeler Trigg O'Donnell LLP, Denver, Colorado (Regent Liaison)
R. Joseph Parker, Partner, Taft, Cincinnati, Ohio
Collins J. Seitz, Jr., Partner, Seitz, Ross, Aronstam, & Moritz LLP
Michael W. Smith, Partner, Christian & Barton LLP, Richmond, Virginia
Alan L. Sullivan, Partner, Snell & Wilmer, Salt Lake City, Utah
Francis M. Wikstrom, Partner, Parsons Behle & Latimer, Salt Lake City, Utah
William N. Withrow, Jr., Troutman Sanders LLP, Atlanta, Georgia
W. Foster Wollen, former General Counsel, Bechtel Group, Inc., San Francisco, California
The Hon. Jack Zouhary, U.S. District Court for the District of Ohio, Toledo, Ohio
The dinner and award ceremony will held April 23, 2015, at the Four Seasons Hotel in downtown Denver. Click here for more information.
The first recipient of the IAALS Rebuilding Justice Award was United States Supreme Court Justice Sandra Day O'Connor (Ret.) in 2007. IAALS has given the award to former chief justices of state supreme courts, legislators, federal district court judges, and legal educators. This will be the 8th Annual Award.