2020 IAALS Rebuilding Justice Award Honors Margaret Hagan and Chief Justice Mark Cady
October 27, 2020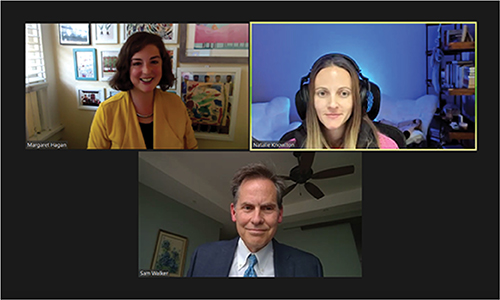 On Tuesday, October 20, IAALS hosted a virtual Rebuilding Justice Award Celebration after our annual gala was postponed in April. Instead of gathering for dinner as we normally do, we were joined by people from all over the country and world via Zoom to honor both Margaret Hagan and the late Iowa Supreme Court Chief Justice Mark Cady for their leadership and innovation in advancing our justice system. The two have inspired the movement toward user-centric reforms in family courts—leading to better pathways for families nationwide.
Sam Walker, IAALS' interim executive director, opened the event with a quote from Martin Luther King, Jr.:
"The arc of the moral universe is long, but it bends towards justice. The two awardees that we will celebrate today have not only been on that moral arc, but they have helped to bend it toward justice—in their work, and in their legacy."
Walker spoke to Hagan's invaluable partnership on our Court Compass project, which brought together courts and communities to build better family courts: "This project and her broader work exemplifies the spirit of IAALS, as we imagine—in the broadest way possible—how people connect with our legal system." Walker also remarked on Chief Justice Cady's commitment to the Family Justice Initiative and its efforts to refocus family courts on problem-solving and facilitating cooperation. "His work was really at the heart of what we do and advanced so much of the cause that [IAALS] imagined, as he advanced fairness, access, and transparency in the justice system."
Texas Supreme Court Chief Justice Nathan Hecht also paid homage to Chief Justice Cady and his legacy:
"As important as [the Family Justice Initiative's] reforms are, for which Chief Justice Cady worked so hard, and as important as judicial independence is, which Chief Justice Cady courageously and forcefully defended, both build public trust and confidence in the justice system—and that is also on Mark's legacy."
We are honored to have had Chief Justice Cady among our partners and friends at IAALS.
Margaret Hagan provided the keynote of the event, focused on her latest project at the Stanford Legal Design Lab addressing the eviction crisis—which the COVID-19 pandemic has exacerbated. Through the lab's community-led design approach, she said, "we are going out and talking to people—whether they're front-line service workers in the courts and legal aid groups, or people like self-represented litigants and other folks trying to navigate the process—and hearing what their barriers [are], or what they're able to do or not do on the ground. [We also work] alongside those folks to design new policies, to think about what new types of court procedures, or legal aid services, or technology tools might be possible."
Hagan's commitment to improving our justice system—from family justice to the eviction crisis and beyond—is extraordinary, and we are sure she's only getting started.
This special event would not have been possible without the generosity of our sponsors and without the strong partnership of the University of Denver. University of Denver Chancellor Jeremy Haefner remarked upon the longstanding relationship between the IAALS and the university: ""[IAALS'] mission and vision aligns so closely with the University of Denver—both the institute and the university are really dedicated to serving the public good, serving the public interest of our country, to improving lives and using research and evidence-based materials in order to really change our approaches."
Margaret Hagan and Chief Justice Mark Cady exemplify the spirit of innovation and leadership that we champion across all of our work, and we are proud to present them with the 2020 Rebuilding Justice Award.