Adapting Family Law for Modern, Nonmarital Families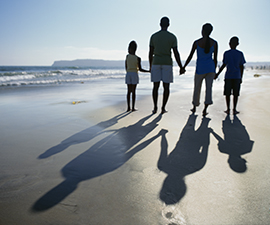 In a recent article, Professor Clare Huntington, Fordham University School of Law, argues for family law reforms that address the "seismic shift" occurring in American families. Today, more and more children are born to unmarried parents. These children fare worse on a variety of metrics compared to children of married parents and, according to Huntington, the interactions among unmarried parents after a relationship ends is a crucial part of this equation.
To date, the legal system has not been responsive in adapting to this shift and fostering more beneficial co-parenting partnerships. Huntington explains that marital law "wreaks havoc" on nonmarital families in a number of ways:
Fosters a "gatekeeping" effect caused by mothers' default custodial power to control fathers' access to children;
Rests on a presumption that relationships will end by the hand of the court when this is not always the case for nonmarital families; and
Reinforces traditional gender roles that often contradict the reality of nonmarital family life.
According to Huntington, it is essential for today's family law to "recognize[] that relationships between parents are critical to caregiving and child well-being even if parents are not romantically involved, let alone married." To that end, she proposes reform to minimize "gatekeeping" and promote goodwill between parents, create alternative dispute resolution mechanisms for nonmarital families, and change the child support system to empower father involvement.
The shift toward the nonmarital family is the most important challenge facing family law today, and it is essential to think critically about how to occupy the legal space left open by the retreat of marriage.
Hunter Metcalf is a second-year law student at the University of Colorado Law School and contributes to IAALS Online. Please direct inquiries about this post to iaals@du.edu.