Alli Gerkman on Getting Law Schools and Students "Ahead of the Curve"
February 19, 2015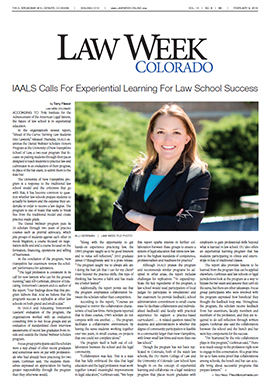 Law Week Colorado recently published an article highlighting Educating Tomorrow's Lawyers' report, Ahead of the Curve: Turning Law Students into Lawyers, which examines the Daniel Webster Scholar Honors Program at the University of New Hampshire School of Law. Instead of traditional courses, the program immerses students in a two-year, experience-based learning environment, complemented by ongoing assessment and feedback. Throughout the program, New Hampshire bar examiners review the students' performance; successful completion and approval of their work allows for admission to the state bar without having to sit for the bar exam.
Focus group findings show that DWS students are ahead of their peers and often ahead of practitioners with up to two years of experience. The program also allows students to foster collaborative relationships with their peers, reflective of life in practice:
Courses are designed to mirror the collaboration characteristic of real law firms. Participants reported that in these courses, DWS scholars do not compete with one another. . . . The program facilitates a collaborative environment by having the same students working together over two years, in small courses, on projects that one could not complete alone.
And, collaboration is a critical component to making the program work, bringing together the law school, state supreme court, local practitioners, and bar examiners. Alli Gerkman, Director of Educating Tomorrow's Lawyers, believes that this type of collaboration will pave the way for more successful innovations in legal education:
I'm heartened by the role collaboration plays in this program. There is so much energy in the profession right now to engage in this conversation. It's a great time for us to have some proof that collaborations among schools, the bench, and bar can actually bring about successful programs that prepare lawyers.
Gerkman said that while not all law schools or jurisdictions may be able to change the way their students are admitted to the bar, the constant feedback loop provided students, through the collaboration with the bench and bar, is perhaps even more important.
Focus group participants who were involved with the program expressed how beneficial they thought the feedback loop was. Throughout the program, the scholars receive feedback from bar examiners, faculty members, and members of the profession, and they are required to do self-reflection through written papers.
Overall, Educating Tomorrow's Lawyers believes that the program's successes are replicable at other law schools on both grand and small scales. For a full review of the program and our recommendations for replication, click here to download the report.