Civil Justice Roadmap for State Innovation Gaining Momentum and Participation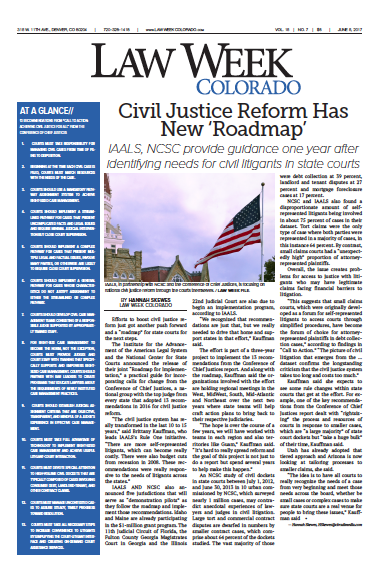 In an article published earlier this month, Law Week Colorado covered the new roadmap for civil justice reform developed by IAALS and the National Center for State Courts (NCSC). The two organizations announced their "Roadmap for Implementation" in May, on the heels of the Conference of Chief Justice (CCJ)'s recommendations for increasing efficiency and effectiveness. IAALS will work with five jurisdictions to implement and test the roadmap, and IAALS and NCSC will provide guidance and support along the way, as they have throughout the CCJ Civil Justice Improvements project process.
Recent and growing changes in the civil justice system, such as the increased number of self-represented litigants and budget cuts, triggered the need for reform. For example, small cases take up a lot of space and time on state court dockets, so the CCJ suggested "rightsizing" the processes and resources of those courts to fit each individual case's needs, explained Brittany Kauffman, Director of IAALS' Rule One Initiative.
"The idea is to have all courts really recognize the needs of a case from the very beginning and meet those needs across the board, whether they be small cases or complex cases to make sure state courts are a real venue for people to bring those issues."
"We recognized that recommendations are just that, but we really needed to drive that home and support states in that effort," said Kauffman. IAALS and NCSC are also hosting regional Summits for state teams across the country who will bring the recommendations to their home courts through detailed action plans. Kauffman said the groups involved are using a widespread, hands-on implementation approach to achieve the project's objective and to make sure the recommendations come to fruition.
"It's hard to really spread reform and the goal of this project is not just to do a report but spend several years to help make this happen."
The roadmap is just one piece of the broader project on which IAALS is working in coordination with NCSC, which includes broad education, technical assistance, and practical guides and self-assessment tools necessary to support successful implementation.
Heather Buchanan is a second-year law student at the University of Colorado Law School and contributes to IAALS Online. Please direct inquiries about this post to iaals@du.edu.
Mentioned Content
This roadmap provides guidance and support for implementing the Conference of Chief Justices recommendations for improving the American civil justice system in a way that is thoughtful, responsive to the needs of court users, well-designed, and well-executed—so that the reforms have the greatest possibility of success.
Read More