Conference Gives Legal Profession a Voice in the Future of Legal Education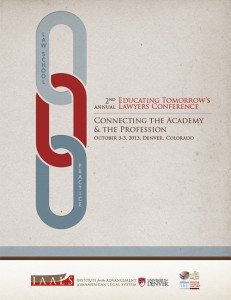 Denver, Colo. – Educating Tomorrow's Lawyers, an initiative of IAALS, the Institute for the Advancement of the American Legal System at the University of Denver, announces its second annual conference, which will focus on connecting the profession and the academy to ensure that law graduates are prepared to begin a career of service to clients, service to the legal system, and service to society.
The 2nd Annual Educating Tomorrow's Lawyers Conference will attract 80 legal educators, law school administrators, and practitioners. Panelists will include practitioners and educators working through questions like:
What Core Competencies Do Entry Level Lawyers Need?
What Structural and Curricular Changes Ensure Law Grads Have the Necessary Core Competencies?
How Can Law School Accreditation and Bar Admissions Standards Facilitate Progress in Legal Education?
"Students attend law school for three years, but they become part of the legal profession for the rest of their working lives," said Alli Gerkman, Director of Educating Tomorrow's Lawyers. "We think it is important for the profession to be part of the conversation about the future of legal education."
Over two days, the conference participants will focus on how to design and deliver a modern legal education that educates lawyers to the highest standards of competence and professionalism—standards that clients, the profession, and the legal system deserve.
What, Where, & When:
Educating Tomorrow's Lawyers 2nd Annual Conference:
Connecting the Academy & the Profession
Thursday, October 3 through Saturday, October 5, 2013
Courtyard by Marriott Denver Cherry Creek
1475 South Colorado Boulevard, Denver, CO 80222
Registration is limited. Contact agerkman@du.edu for information.
Quick links for more information:
Educating Tomorrow's Lawyers works to align legal education with the needs of an evolving profession by facilitating, evaluating, and promoting law teaching methods designed to produce graduates who are employable and practice-ready; able to meet the needs of their employers, their clients, and society; and prepared to lead and respond to changes in the legal profession throughout their careers.
IAALS, the Institute for the Advancement of the American Legal System at the University of Denver, is a national, independent research center dedicated to continuous improvement of the process and culture of the civil justice system.