A Conversation about Project-Based Learning
October 13, 2021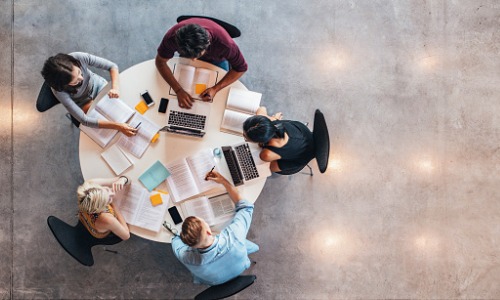 One of us is a law student. The other is a law professor. We're both advocates for reforming legal education, particularly through expanded access to experiential learning opportunities. We're critical of the 150-year-old model of legal education that relies on passive learning and summative assessment. And we're in decent company. See, for example, Jerome Frank in 1933, the New York Times Editorial Board in 2011, and IAALS' body of legal education reform work.
But we're not here to lay out a critique of traditional legal education. (The curious can read some of Anna's views here.) Instead, we're writing to highlight a model of experiential legal education—project-based learning—through a glimpse of Justice Lab, a course at the University of Utah S.J. Quinney College of Law. Anna is the founder and director. Scott is an alum. 
Justice Lab uses a project-based learning model that places students in the role of a lawyer representing an organizational client in systemic reform and policy projects. The work is client-driven and deeply collaborative: clients identify project goals and students work in teams to help clients achieve those goals. The professor is a guide on the side, a coach responsible for supporting and scaffolding students' learning and client work. 
Read on for a conversation about Scott's experience with experiential, project-based learning in Justice Lab.
Anna: Scott, you spent a year working in Justice Lab. Would you tell us about your client and project?
Scott: Our client was the Salt Lake County Mayor's Office of Criminal Justice Initiatives. Salt Lake County is moving toward a services-first approach for people experiencing homelessness, mental illness, and substance abuse. These vulnerable people are often incarcerated for low-level offenses. The county wondered how they could direct these vulnerable people to services that address the underlying issues contributing to their repeated interactions with the criminal justice system. The county heard from service providers that a lack of government identification keeps many of these individuals from accessing the critical programs. That's where my team came in. 
The county tasked our team with identifying the scope of the problem, determining where and why barriers exist that kept people from getting IDs, and offering recommendations to address the issue.
Anna: We've had several conversations about the difference between how your team viewed the project (and your own capacities) at the beginning of the semester as opposed to the end. Would you share a bit about this experience? 
Scott: We were a three-person team fresh out of our 1L year. We signed up for Justice Lab without knowing the specific project we'd work on or who our teammates would be. We were just excited to start "doing the work." When we met as a team for the first time and finally had a chance to see what the project would be, the weight of the project hit us. This was a real client and a real-life problem affecting vulnerable people. I remember thinking, "Yeah, the project sounds like a great idea, but how are WE going to do anything about it?" Honestly, I felt paralyzed those first couple of weeks. The task felt insurmountable.
 
But just a few short months later, we were working with a state legislator on a bill that would ease access to state ID cards for people experiencing homelessness. She reached out to us on a Thursday morning to let us know she was presenting the bill to a legislative committee that afternoon. She asked if we would be willing to testify and share what we learned in our project. We said, "Of course," and that afternoon we were testifying at the state capitol!
 
It is hard to believe how much we grew in just a few months—from feeling paralyzed during the first week to confidently accepting a last-minute invitation to testify before state representatives.
Anna: How did your team work through those early struggles?
Scott: Most of all, we believed that you trusted and supported us. We also trusted in the process. We reminded ourselves daily that we knew in advance that the work would be difficult and that we would often be pushed outside of our comfort zones. And we leaned on each other a lot, which—for me—was a growing experience. We had to be vulnerable enough to trust one another. 
Our 1L year often felt like hazing. We worked in isolation to prove ourselves by getting a "good" grade on an exam. We had to change our mindsets completely when we got to Justice Lab. I think we all had pre-law school experiences where others relied on us to complete a project or task, but it was different being in a true team where my teammates counted on me, and I was counting on them, as well. That level of cooperation and trust was new to me. 
Anna: Would you share more of what you learned about collaboration while working with your teammates, client, and community partners? 
Scott: I finally learned what it meant to work as a team—to actually work with each other and not just near each other. I've worked on other "teams" where being on the team meant a simple division of labor without collaboration or even speaking to one another before the project's due date. I think we all knew that being a good lawyer requires being good at interacting with others, but the project gave us first-hand experience that highlighted collaboration as a lawyering skill.  
In addition, the project had no chance of succeeding without deep collaboration with community stakeholders. We did a lot of listening. We interviewed dozens of local and national service providers, homeless shelter caseworkers, government officials, and people working in the criminal justice system. We spent time with local homeless centers.
And after all of that, I think that one of the things that resonated most with me was that I finally understood how advocacy begins with a conversation.
Anna: What did you ultimately produce for your client? What has been the real-world impact of your work? 
Scott: We drafted a report and presented our findings and recommendations to the mayor and the county's criminal justice advisory council. We created and led a county working group that included state representatives, law enforcement leaders, and homeless service providers. We helped pass a bill that expanded the list of homeless shelters that can provide the required proof of residency needed to get an ID card. We facilitated a partnership with the state agency in charge of driver licenses and local homeless shelters to address the unique scheduling and application process needs of those experiencing homelessness. More generally, we helped establish lines of communication between stakeholders.    
Anna: How would you describe the benefits of learning in an experiential course? 
Scott: When the idea of going to law school first started swimming around in my head several years ago, my idea of what law school would look like was what Justice Lab is. Justice Lab will undoubtedly be my signature law school experience. I think many of us come to law school because we want to gain powerful legal skills and tools so we can make a tangible difference in our communities. Justice Lab is a class where that is happening in real time. We were put into the role of lawyers and were taught how to think like a lawyer from initial client contact through a final work product. We used all the same skills we learn in traditional classes plus real-life skills like interviewing clients, creating project plans, and learning how to work as a team. No other class has given me such clear training on how to be a lawyer. Law students deserve to have more classes like Justice Lab.