The Debated State of Marriage and Divorce in America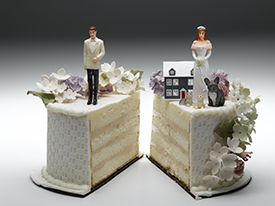 The institution of marriage in the United States is stronger today than it has been for quite some time—or is it? Recent articles from The New York Times and The Week debate the issue and reach different conclusions.
The New York Times article points to "many reasons for the drop in divorce, including later marriages, birth control and the rise of so-called love marriages." The article argues that these factors reinforce the notion that marriages today are breaking up at lower rates than in decades prior. If the trend continues, the article posits, almost two-thirds of marriages will last until one spouse dies.
The Week, however, argues that this data is flawed and the state of marriage in the United States is not quite so positive. The article points to the risk of elder divorce and also asserts that many Americans are choosing not to marry but still have children, thereby making the data an inaccurate reflection of the modern range of relationships in the United States.
While the articles come to different conclusions, they agree on two things: the rate of marriage in the United States is declining and marriages between college educated or upper-class individuals are doing better than those between individuals outside of that socioeconomic background. Additionally, they both point to one certainty: the need for affordable family law services, especially for never-married couples, will continue to grow.
Riley Combelic is a third-year law student at the University of Denver Sturm College of Law and contributes to IAALS Online. Please direct inquiries about this post to iaals@du.edu.