Educating Tomorrow's Lawyers Launches National Project to Establish Professional "Foundations" for New Lawyers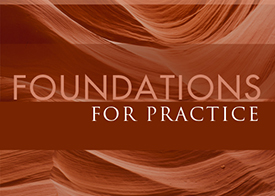 Denver, Colo. – IAALS, the Institute for the Advancement of the American Legal System at the University of Denver, is pleased to announce "Foundations for Practice." Led by Educating Tomorrow's Lawyers, this ambitious project focuses on improving legal education and closing the gap between how students are being taught in law school and the knowledge and skills legal professionals say new graduates need to succeed.
A generous gift of $150-thousand from the William and Flora Hewlett Foundation will support the first phase of the multi-year project. "Given the changing legal marketplace and profession, IAALS' Educating Tomorrow's Lawyers can play an important role in better aligning our legal education system with the practical skills today's lawyers require," said Larry Kramer, President of the Hewlett Foundation.
"The Hewlett Foundation is committed to fostering education that prepares students to respond to a changing world," said IAALS Executive Director Rebecca Love Kourlis. "Our 'Foundations for Practice' project will collect information and provide tools that will enable law schools to educate law students with a view toward what that changing world demands of lawyers. We are grateful to the Hewlett Foundation for their support and for their vision."
Phase one of "Foundations for Practice" will involve national surveys and a series of convenings that will bring together representatives from all corners of the legal profession to discuss the foundational skills, characteristics, and competencies that new attorneys need to begin a successful and rewarding practice.
These foundations will be used to identify, assess, and implement new models for teaching law students, and also to provide tools for legal employers that can be used when evaluating recent graduates in the hiring process.
"There has never been a better—or more critical—time to draw the profession and academy together to identify the foundations entry-level lawyers need to practice," said Alli Gerkman, Director of Educating Tomorrow's Lawyers. "With our deep roots in both the academy and the profession, our commitment to research and collaboration, and the generous support of the Hewlett Foundation, Educating Tomorrow's Lawyers and IAALS are uniquely positioned to lead this conversation."
The project's first convening kicks off in May 2014 at the Penrose House in Colorado Springs, Colorado. Participants include:
Chief Justice Rebecca Berch, Arizona Supreme Court
Heather Bock, Chief Professional Development Officer, Hogan Lovells US LLP
Nick Catanzarite, Peters Mair Wilcox
Stanton Dodge, Executive Vice President and General Counsel, DISH Network LLC
Carolyn Elefant, The Law Offices of Carolyn Elefant, Author of Solo by Choice
Rew Goodenow, Parsons Behle & Latimer, President-Elect of the National Conference of Bar Presidents
Hugh Gottschalk, President, Wheeler Trigg O'Donnell
Linda Klein, Baker Donelson, Immediate Past Chair, ABA House of Delegates
Keith Lee, Hamer Law Group, Author of The Marble and the Sculptor: From Law School to Law Practice
Paula Littlewood, Executive Director, Washington State Bar Association, Chair, Legal Education and Bar Associations Task Force, National Association of Bar Executives
Guillermo Mayer, President & CEO, Public Advocates
Erica Moeser, President, National Conference of Bar Examiners
Ann Roan, Training Director, Colorado State Public Defender
Alon Rotem, General Counsel, Rocket Lawyer
John Suthers, Colorado Attorney General
The Foundations for Practice convening is the first in a series of IAALS Dialogues at the Penrose House and is made possible by the generosity of the El Pomar Foundation.
Educating Tomorrow's Lawyers works to align legal education with the needs of an evolving profession by facilitating, evaluating, and promoting law teaching methods designed to produce graduates who are employable and practice-ready; able to meet the needs of their employers, their clients, and society; and prepared to lead and respond to changes in the legal profession throughout their careers.
IAALS, the Institute for the Advancement of the American Legal System at the University of Denver, is a national, independent research center dedicated to facilitating continuous improvement and advancing excellence in the American legal system.
The William and Flora Hewlett Foundation helps people build measurably better lives. The Foundation concentrates its resources on activities in education, the environment, global development and population, performing arts, and philanthropy, as well as grants to support disadvantaged communities in the San Francisco Bay Area. A full list of all the Hewlett Foundation's grants can be found here.