Educating Tomorrow's Lawyers Survey Used to Analyze Rate of Law School Innovation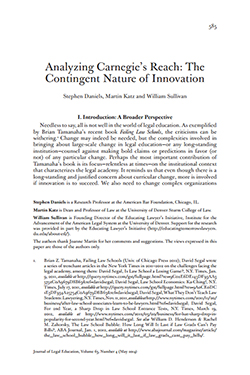 The Journal of Legal Education of Southwestern Law School recently published an article surveying the landscape of legal education. Authors Stephen Daniels, Martin Katz, and William Sullivan used an Educating Tomorrow's Lawyers survey to discuss changes that have been made by the legal academy and whether these changes were forceful enough to overcome the inertia of traditional legal education. The other aim of the article—and the survey—was to determine whether law schools are making changes that are in line with the 2007 Carnegie Foundation for the Advancement of Teaching report Educating Lawyers: Preparation for the Profession of Law.
ETL's survey was conducted in 2011 and gathered data from 118 law schools. The data included information about new initiatives made at the institutional level since 2001. The timeframe of the survey was used to help ETL determine whether external factors—namely, the economic downturn of 2008—were catalysts for institutional changes or whether schools acted following the Carnegie Report. The survey asked law school deans about substantial institutional initiatives in three broad areas: curriculum, faculty development related to teaching and learning, and the incentive structure for faculty professional activity.
The article—and the survey—concluded that there have been substantial changes in law school curriculum by law schools in every tier; the changes have been significant and have occurred in the areas suggested by the Carnegie Report. But, the data does not indicate that the Carnegie Report has been the only motivator for change. Because of this, there are few schools that are implementing all of the Carnegie recommendations or giving them financial support. Based on their analysis, the authors question whether these curriculum changes in and of themselves will be sufficient to make a lasting difference. The article stresses that schools need to "put their money where their mouths are" and fund workshops and training for professors while also hiring and rewarding professors who are successfully implementing change.
It is not all bad news, however. The survey indicated that schools were implementing innovation at a faster rate from 2008-2010 than previously and, if that trend continues, the needed institutional investment in innovation may be closer than many suspect. What is needed next, the authors suggest, is targeted research that studies the process of change within schools—especially those that are using coordinated institutional strategies that foster sustainable innovation.
Riley Combelic is a third-year law student at the University of Denver Sturm College of Law and contributes to IAALS Online. Please direct inquiries about this post to iaals@du.edu.