Efforts to Transform America's Civil Justice System Hit the Ground Running
May 30, 2017
Recommendations by Conference of Chief Justices Advance with Release of New Roadmap and Demonstration Pilots
The effort to create a 21st Century system of justice is advancing. Today, IAALS, the Institute for the Advancement of the American Legal System, and the National Center for State Courts (NCSC) announced the release of a new Roadmap to guide states as they implement sweeping changes to make state courts more efficient and effective—and that five jurisdictions will serve as demonstration pilots as they follow the roadmap and implement civil justice reform. An additional three states have also received grants to support their efforts to have also been selected as demonstration pilots around the country as they work to reduce cost and delay in the legal system. These efforts are part of three-year $1 million strategic response to the call to action sounded by the Conference of Chief Justices, and supported by the State Justice Institute.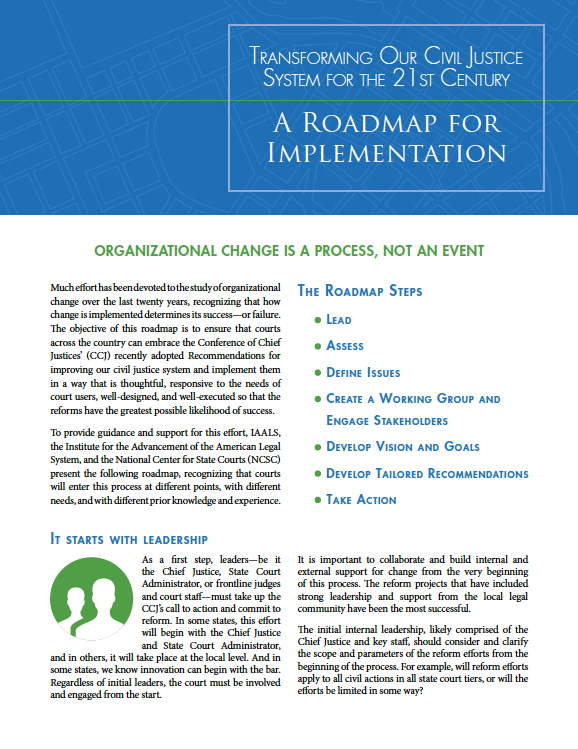 "The Roadmap for Implementation was created to ensure that the recommendations endorsed by the Conference of Chief Justices have the greatest possible likelihood of success," said Brittany Kauffman, Director of IAALS' Rule One Initiative. "With cost and delay hamstringing the civil justice system, it is now up to state court leaders to implement these recommendations so that they may benefit all who depend on our justice system. Recognizing that organizational change is a process, the roadmap provides a clear step-by-step process for moving from initial assessment and definition of issues to working with stakeholders and implementing reform."
"State courts can learn from their fellow states' experiences, which is why we are also working with five jurisdictions as they follow the roadmap. NCSC and IAALS will provide technical assistance to support their efforts and then share the results in a series of published case studies," said Paula Hannaford-Agor, Director of NCSC's Center for Juries Studies. "As part of the Civil Justice Initiative we are also engaged in demonstration pilots and believe results from these lead states will provide valuable lessons learned while also illustrating that change is possible."
To ensure one state from each region of the United States is represented, five states will ultimately participate as roadmap implementation states with Idaho and Maine already onboard. The three additional jurisdictions participating in the Civil Justice Initiative demonstration pilots are the 11th Judicial Circuit of Florida, the Fulton County (Georgia) Magistrates Court, and the Illinois 22nd Judicial Court. The demonstration pilots will receive support for and evaluation of their projects as they implement the 13 recommendations.
"This is about leadership, which requires picking up the Conference of Chief Justice's recommendations and putting them to action," explained Judge Jennifer Bailey, Administrative Judge of the Circuit Civil Division in Miami. "IAALS and NCSC are empowering the courts with the tools and support needed to facilitate a more responsive, effective, and affordable system of justice and I'm excited by the work here in Miami to bring about a 21st Century legal system."
The Conference of Chief Justice's Civil Justice Improvements Committee was charged with developing guidelines and best practices to ensure the just, prompt, and cost-effective resolution of civil cases in state courts. With support from the State Justice Institute, NCSC and IAALS are now working with state and local courts and with civil justice stakeholders through the Civil Justice Initiative Implementation Plan to provide the education, technical assistance, interactive regional summits, and practical guides and self-assessment tools necessary to support successful implementation.