ETL Director Alli Gerkman Raising the Bar with CWBA Foundation Award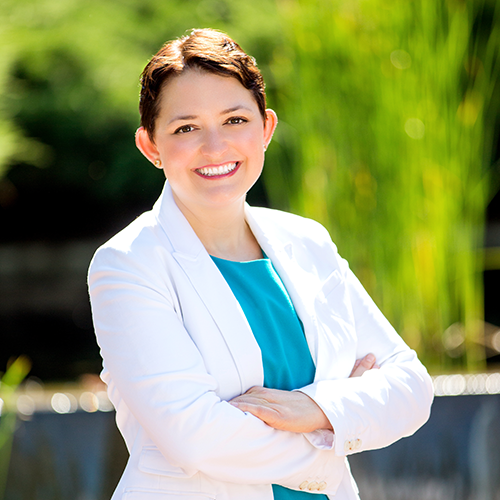 Last night, Educating Tomorrow's Lawyers Director Alli Gerkman was honored at the 12th Annual Raising the Bar Dinner hosted by the Colorado Women's Bar Association Foundation. Each year, the CWBA Foundation honors women lawyers "who have made a difference in our communities and have 'raised the bar' for all of us." With over 400 people in attendance, Alli was honored along with four other women attorneys for their work to raise the bar through reform or innovation "that has significant systemic impact."
As Director of ETL at IAALS, Alli leads our work to align legal education with the needs of an evolving profession. She has spent years challenging the conventional wisdom regarding how young lawyers should be educated and trained. Under her leadership, IAALS launched Foundations for Practice, a project created to: 1) identify the foundations new lawyers need for success, 2) develop models of legal education supporting those foundations, and 3) advance a culture of legal hiring resulting in a better fit for the employee, the employer, and the client. More than 24,000 lawyers participated in IAALS' national survey, the results of which defined key legal skills, professional competencies, and characteristics that new lawyers need.
Alli now works with law schools and legal employers to put IAALS' research into practice. She has carried the lessons learned from the project to lawyers and legal educators in more than 20 conferences and gatherings across the country and hosts an annual conference for law school innovators. She is in the early stages of two new projects: one that will evaluate the efficacy of the bar examination as the primary assessment tool for bar admission and one that will shed light on what individual clients value in their lawyers.
"We at IAALS are so proud of Alli and of her work," said Rebecca Love Kourlis, IAALS Executive Director and former Colorado Supreme Court Justice. "She is an extraordinary leader who is raising the bar for systemic innovation not only regionally but nationally."
Alli chairs the New Lawyer Working Group for the Colorado Chief Justice's Commission on Professional Development, and is a member of the Colorado Women's Bar Association Board, the National Advisory Council for Law School Transparency, and the CBA Board of Governors. Beyond the legal community, she has served on the board of Colorado Common Cause and has raised money for the Children's Hospital's Center for Cancer and Blood Disorders through the Courage Classic bicycle ride. Alli graduated from Michigan State University and received her J.D. from DePaul University.