Experiential Learning in Administrative Law: Meeting the Revised ABA Standards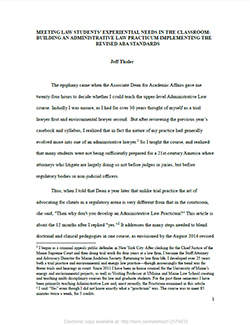 On March 6, University of Maine Visiting Professor and University Counsel Jeffrey Thaler published a paper on Meeting Law Students' Experiential Needs in the Classroom: Building an Administrative Law Practicum Implementing the Revised ABA Standards. In it, Thaler discusses the ABA's Revisions to the Standards for Approved Law Schools Relating to Learning Outcomes and Experiential Learning, made in August 2014, and how to develop and implement these standards in a practicum or simulation course.
According to Thaler, modern students are not being prepared adequately for the realities of practice, especially in the realm of administrative law. Litigators in this area frequently appear before regulatory bodies or non-judicial officers, instead of before judges or juries, the default scenario in legal education. Noting how administrative law does not usually have the same opportunities for experiential learning, Thaler set out to create a class that blends "doctrinal and clinical pedagogies into one hybrid course, focused on ethical, environmental and administrative law issues."
In sharing the steps he took to develop the course while implementing the ABA's Revised Standards, Thaler hopes to help others working in legal education create similar hybrid courses "that students both greatly need and will welcome." Student evaluators who completed the course have turned into its greatest advocates for growth and replication.
The Practicum turned out to be unlike any other course I've ever taken in law school, in that we applied concepts through practical exercises in a manner that mattered for something. . . . I felt, for all intents and purposes, more like an actual attorney than I even had clerking for a local firm. So, in sum, this course exceeded my expectations by injecting something unique—something useful and invaluable—into my expensive legal education. It's something that I wholeheartedly feel was finally worth the cost of tuition, and something I desperately wish was injected into all of my other classes: real discussions of how to succeed as an attorney.
Another simulation course focusing on administrative law is offered at the University of Denver Sturm College of Law by ETL Fellow Roberto Corrada. The course gives students a comprehensive understanding of administrative law through a unique, simulated experience inspired by the novel Jurassic Park.
Hunter Metcalf is a second-year law student at the University of Colorado Law School and contributes to IAALS Online. Please direct inquiries about this post to iaals@du.edu.