Follow Our 2014 #ETLConference Online, Covering Assessment in Legal Education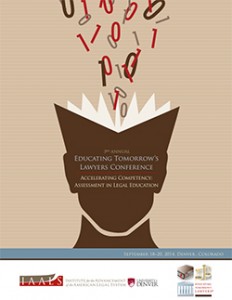 Hello all! Riley Combelic, here. I am a third-year law student at the University of Denver Sturm College of Law focusing on corporate and securities law.
This Thursday, Friday, and Saturday (September 18-20), I will be attending the 3rd Annual Educating Tomorrow's Lawyers Conference in Denver, Colorado, which will focus on "Accelerating Competency: Assessment in Legal Education." Check out the brochure for a list of the impressive faculty who will be joining us from all over the country (and world!) and the various sessions they will lead.
I'll be keeping you updated throughout each day with live tweets on conference happenings and the discussions taking place—so even if you can't join us, you can follow along online. Be on the lookout for photos and videos from some presentations as well.
Keep up with the conference by using hashtag #ETLConference and following us at @ETLInitiative on Twitter, or over on our Facebook page.
Whether you are at the conference or not, feel free to join our online conversation—I will relay your questions and comments to conference mediators. Be sure to use the hashtag so we can all follow along.
We are looking forward to a vibrant and successful conference, and some very engaging conversations—both in person and online. We hope you will be a part of it!