Follow Our 2015 #ETLConference Online as We Debut Foundations for Practice Results
September 30, 2015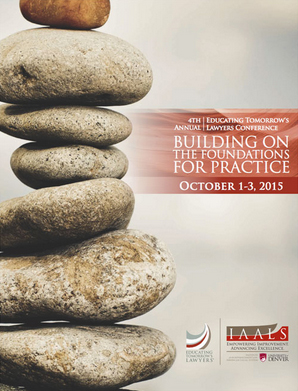 It's that time again! We're incredibly excited to share the first results of our Foundations for Practice project and help build on what we've learned at this year's Educating Tomorrow's Lawyers Conference. Our 4th Annual Conference will be held this Thursday, Friday, and Saturday (Oct 1-3) in Denver, Colorado. Check out the brochure for a list of the speakers and schools who will be joining us from all over the country to participate in a range of interactive sessions.
Foundations for Practice is a first-of-its-kind effort to identify the foundations entry-level lawyers need to succeed in practice. The findings we'll be discussing, and the pathways forward, will stem from some impressive data:
37: The number of states that participated in the survey
700,000+: The number of lawyers who received the survey
24,000+: The number of valid responses from lawyers across the country
Updates concerning speakers, break-out sessions, and more taking place will be posted throughout the day with live tweets and Facebook posts. Even if you can't make it to the conference, you can stay up to date on all the conference happenings online.
Use hashtag #ETLConference and follow us at @ETLInitiative on Twitter, or over on our Facebook page.
We hope you join the conference, in person or online, for what is sure to be a vibrant and lively meeting of legal minds—forging a new way forward for the future of legal education and tomorrow's lawyers.