Governor Hickenlooper Proclaims April 21 'IAALS Day' in Honor of 10th Anniversary
April 25, 2016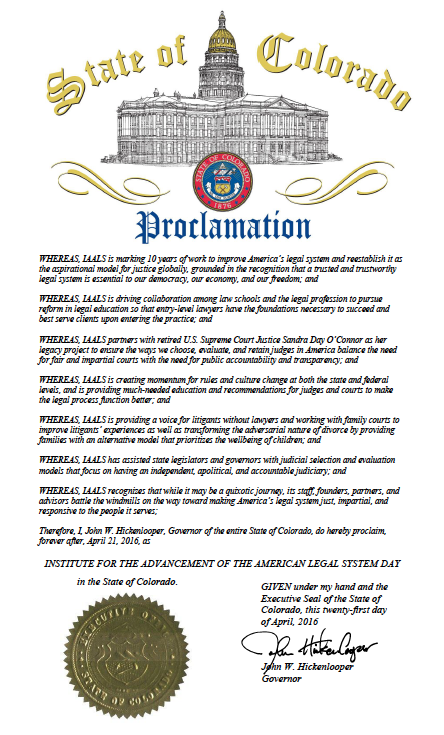 Last week, IAALS held our annual Rebuilding Justice Award Dinner in celebration of our 10th Anniversary and the remarkable progress we've made as a national force for legal reform. More than one hundred thirty people from all over the country joined us in Denver to mark this historic milestone—and celebrate a legacy of positive impacts made possible by the individuals, groups, and stakeholders who helped lay the groundwork for success. Our work is not accomplished alone, which is why we honored both past awardees and current partners for their dedication and their innovation.
Many of our past awardees—Chief Justice Michael Bender, Chancellor Bob Coombe, Professor Bill Henderson, and Professor James Moliterno, as well as American College of Trial Lawyers Task Force on Discovery and Civil Justice awardees E. Osborne Ayscue, Jr., Richard Holme, William Norwood, Michael O'Donnell, Gordon W. (Skip) Netzorg, Michael Smith, and Judge Jack Zouhary—were in attendance. We were thrilled to spend the evening with so many returning and first-time attendees who share our commitment to making America's legal system thrive.
The highlight of the evening came with the Proclamation from Colorado Governor John Hickenlooper that April 21, 2016, will forever after be known as Institute for the Advancement of the American Legal System Day. University of Denver Chancellor Rebecca Chopp surprised IAALS Executive Director Rebecca Love Kourlis by reading the Proclamation, which roused attendees to a standing ovation
The evening also marked a fond farewell for six IAALS Board members whose terms expire this year. We gratefully acknowledge the tremendous wisdom, experience, and counsel brought to our Board of Advisors by Chief Justice Paul J. De Muniz (Ret.), Daniel C. Girard, William Usher Norwood, III, and Maureen E. Schafer—and especially E. Osborne Ayscue, Jr., and Judge Kevin S. Burke who have served on our board since our founding.
Many thanks to The Sturm Family Foundation for their continued generous support of the Rebuilding Justice Award Dinner, as well as our 10th Anniversary celebration. Thanks also to DISH, PinkShag Design, and Hampden Press for their support of the evening.
Dive Deeper
On April 21, 2016, IAALS held its annual Rebuilding Justice Award Dinner, which recognizes individuals who exemplify the spirit of innovation and leadership that we champion across all of our work. This year, we celebrated our 10th Anniversary, our achievements, and we recognized the individuals, groups, leaders, and stakeholders who helped lay the groundwork to make it happen.
Read More