I Wish I'd Known: Networking as a Key to Early and Lasting Professional Success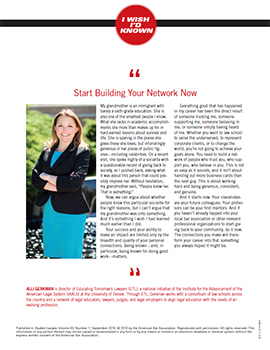 Last year, the American Bar Association's Student Lawyer featured Alli Gerkman, Director of Educating Tomorrow's Lawyers, and her advice for current law students in its I Wish I'd Known column. The column provides practical tips from practitioners on what they wish they had learned earlier in their careers. Gerkman discussed the value of building a personal network and the importance of making and fostering professional connections right from the get-go.
"Your success and your ability to make an impact are limited only by the breadth and quality of your personal connections," said Gerkman. "Being known—and, in particular, being known for doing good work—matters."
Gerkman notes that the time for networking begins in law school, because classmates are future colleagues and professors are a student's first mentors. Hard work goes a long way, but fostering connections of trust and support are also vital for success.
Everything good that has happened in my career has been the direct result of someone trusting me, someone supporting me, someone believing in me, or someone simply having heard of me. . . . [Y]ou're not going to achieve your goals alone. You need to build a network of people who trust you, who support you, who believe in you. This is not as easy as it sounds, and it isn't about handing out more business cards than the next guy. This is about working hard and being generous, consistent, and genuine.
Hunter Metcalf is a second-year law student at the University of Colorado Law School and contributes to IAALS Online. Please direct inquiries about this post to iaals@du.edu.