IAALS Advances Justice with Attorney John Moye
November 29, 2017
IAALS simply would not be what it is without the support of our partners and friends. They are essential to our efforts and hail from a wide range of backgrounds, viewpoints, and sectors. Every month, IAALS will shine the spotlight on one such person and take you behind the scenes for a lighthearted glimpse into those upon whose guidance and support we rely. Together we are advancing justice.
John E. Moye, Founding Partner, Moye|White LLP
John Moye is one of a kind: brilliant and indomitable. IAALS itself was the result of alchemy—a coalition between John, Dan Ritchie, Charlie Gates, and me—and it began over a dinner at a Denver restaurant in the spring of 2005. John and I started talking about "what if." John, like the other IAALS founders, has never heard the words "it cannot be done," and IAALS was no exception. 
John was at my shoulder every step of the way as we created IAALS. He was available for counsel, support, and strategic thinking. I cannot even begin to estimate the numbers of hours he donated to IAALS. He regaled us with his "Contract Rap" (he riffs off Jan and Dean's Dead Man's Curve to teach contract law) after dinner at Board meetings; he helped us to do the fundraising for the building that now bears his name, John Moye Hall; and he offered his time and intellect for whatever task needed to be done.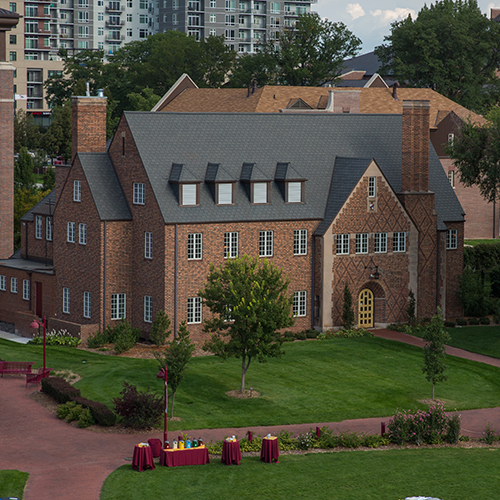 John grew up in South Dakota, went to Notre Dame where he was a DJ on the side during school, and ultimately ended up in Colorado quite by accident. And yet, he has become a fundamental part of the legal culture in Colorado. He has built an extraordinary law firm, excelled in the practice of law, served as President of the Colorado Bar Association, and yet never lost sight of his whimsical side. 
For example, at Christmas, he entices Santa to come to his home to take his grandchildren on a sleigh ride and to deliver gifts in person. The man has connections! He has a home in Italy where he and his wife, Pam, spend as much time as they can—and John revels in the food, the beauty of the countryside, and the wine. 
He is a Renaissance man who loves and appreciates life, cherishes his family, and at every turn is interested in contributing to the betterment of society. Would there were more John Moyes….
We caught up with John for this month's Partner Profile.
What's your idea of perfect happiness? My idea of perfect happiness is enjoying healthy and vibrant relationships with the people with whom I spend most of my time: my wife, my children, my grandchildren, my partners, my clients, and my friends. If at the end of the day, I can say I spent worthwhile time with them, well then I'm perfectly happy. 
What do you consider your greatest achievement? It is difficult to rank one over another. Starting my law firm over 40 years ago has been an important achievement in my life. Being a founder and board member of IAALS is also one of my achievements for which I am very proud. Having the opportunity to be involved in the work of IAALS is something that I will be proud of forever.
Who are your favorite musicians? Yo-Yo Ma is one of my favorites. I also respect the Beatles (though I did not like their songs). They developed chord patterns in their style that changed the sound of the 60s. I love piano music played by classical artists. When I was in high school, I represented the state of South Dakota in a national piano competition and I remember how difficult it was to play Rachmaninov's piano concertos. 
Who are your heroes in real life? I'm particularly impressed by President Harry S. Truman. Truman didn't want to be president, but after 12 days on the job as vice president, Franklin Delano Roosevelt died and Truman was sworn in as President. He did a job, he did it well, and he did it to the best of his ability. Truman made some really tough decisions that ended the war. I encourage people to read his biography, Truman, which is an excellent description of his contributions to our country.
What trait do you most deplore in others? A defeatist attitude. I wince when a person concludes that something they are trying to do is not possible and they give up trying. Occasionally I'll be dealing with a client who is very unhappy about their situation and can't find a solution in their own mind, and it's understandable they need some help. It's the people who won't listen to good advice and aren't willing to try to improve their situation that I dislike.
Why has IAALS been an important philanthropic commitment for you? IAALS is one of—or perhaps the only—legal think tanks that is organized and dedicated to the proposition that they are going to make a difference. IAALS operates in discreet areas of the legal system that are the most complicated, the most difficult, and the most important. IAALS is the one organization that can take on the necessary modifications to truly reform our legal system.