IAALS Advances Justice with Dan Ritchie
IAALS simply would not be what it is without the support of our partners and friends. They are essential to our efforts and hail from a wide range of backgrounds, viewpoints, and sectors. Every month, IAALS will shine the spotlight on one such person and take you behind the scenes for a lighthearted glimpse into those upon whose guidance and support we rely. Together we are advancing justice.
Daniel L. Ritchie, Chancellor Emeritus, University of Denver
Dan Ritchie has had a profound influence on IAALS. The idea of IAALS was born in his office one day in 2005 when he said to me, "Is there a think tank for the legal system somewhere—a think tank that would be collaborative and action-oriented? Does such a thing exist? No? Well, why don't we start one. Why don't you reach out to John Moye and see if he would be interested, too."
Then, Dan raised the money, positioned IAALS for maximum impact, and helped me to pull together an initial team. And he has stuck with us, helping us shape our mission and our projects at every turn. Now, he offices at IAALS and continues to lend us his expertise regularly.
That is how Dan works. He dreams big, he imagines excellence, and then creates it. He transformed the University of Denver from a struggling institution to a world-class one, with attention to every detail. He transformed the Denver Center for the Performing Arts from a regional arts venue to an international showcase. Those are only two examples of many. He has now moved on to the governmental and financial structure of the state of Colorado, and to support for medical research innovations. He has had and certainly will have similar profound impact.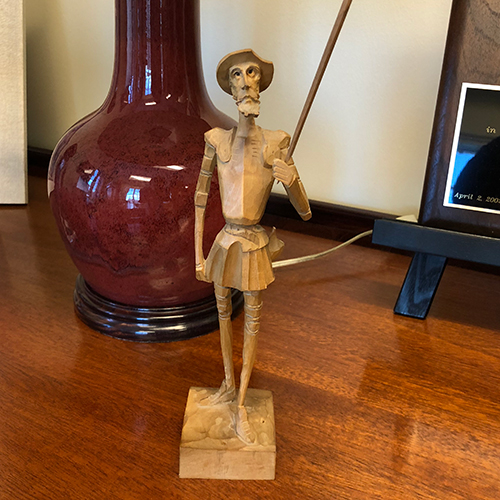 Dan Ritchie does not believe in impossible dreams—instead, for Dan, all things are possible. For a recent birthday, I gave Dan a small Don Quixote statute that belonged to my Dad, who collected Don Quixotes. Another man who transcended the ordinary and did not believe in impossible dreams—and another admirer of Dan Ritchie.
I have had the honor of knowing Dan for over fifty years. Along the way, we have shared many pursuits—ranching, education for gifted and talented children, higher education, public policy. He is brilliant and wise—he is a dreamer and a doer (a very unusual combination), a leader, and a visionary. Dan Ritchies only come along once or twice a century. How incredibly lucky IAALS is to be a fellow traveler with him.
We caught up with Dan for our first Partner Profile of 2018.
What is your idea of perfect happiness? To be useful. It's about expressing my gratitude for the life, the opportunities, and the good fortune that I've had. If I can make a difference, I'm happy. If I can't, I'm not.
Outside of your numerous professional connections, is there something in particular that compels you to call Colorado "home"? Colorado's mountains are a kind of a cathedral with their vast wildness and the animals and plants that occupy them. I love spending time in them. Years ago, I wanted to hike the San Juan mountain range and didn't know that area like I do other parts of the state. So I went to John Fielder (a landscape photographer and writer) and he told me where the best hike was. However, he made me promise to keep it secret. The first day the route was mostly off-trail and at one point we faced a near-vertical 1,000-foot wall. As I stared up at it I thought, this must be wrong, but I checked my directions and they were right. We finally found a route to get up it. That was hard, but getting down was even harder and scarier. We finally made our way down to a beautiful lake and stream and it was extraordinary. Later I told Fielder that he was either overestimating me or trying to kill me.
What do you most value in a friend? Trustworthiness, because without, you really don't have a friend. The actor Eddie Albert was my best friend for many years and he was trustworthy as well as loyal. Most people associate him with the TV show Green Acres, but Eddie was also an environmentalist. He was instrumental in helping ban the chemical DDT which led to the comeback of the bald eagle. We were partners in a health food business and back in the 70's we were the largest distributor of organic produce in the country. Eddie persuaded me to live a healthy life which I owe to my deep trust in him.
What is your most treasured possession? The answer is I don't have one. Possessions are not what it's all about. I feel like I'm not giving you an answer, but the one I just gave you is the right one. The world and life is not about possessions. It's about experiences and making a difference in people's lives.
What is it about IAALS that inspires your involvement and philanthropic support? As a founder of IAALS, I have to say that the mission of IAALS is really really important; more than most people understand. Nobody else was or is doing what IAALS does. Nobody has the respect and balance and commitment that IAALS has. Our civil justice system is the lynchpin of our country and democracy. Without a strong justice system, America will be like other countries ruled by authoritarian governments which is why supporting IAALS is absolutely essential if we value our freedom and the liberties given through the Bill of Rights.