IAALS Advances Justice with Gregory J. Kerwin
IAALS simply would not be what it is without the support of our partners and friends. They are essential to our efforts and hail from a wide range of backgrounds, viewpoints, and sectors. Every month, IAALS will shine the spotlight on one such person and take you behind the scenes for a lighthearted glimpse into those upon whose guidance and support we rely. Together we are advancing justice.
Greg Kerwin, Litigation Partner, Gibson Dunn
Greg and I have known one another for over thirty years. He was a new associate at Gibson Dunn during a period in my career when I was working with Gibson Dunn, primarily on water and oil and gas matters. Back then, Greg was green, and I was just a little less so. But, we overlapped for only a short time. I next encountered Greg primarily through his mother, who lived at the time in our neighborhood and rode her bike everywhere. We would see one another at the grocery store or on the street, and she would tell me about Greg's career and about her other children as well. The Kerwin family is an extraordinary family—for example, his brother, Michael, is a professor here at DU specializing in Quaternary paleoclimatology. Can you imagine what the dinner table conversations in that family were like?
Greg and I share an interest in history—he is a driving force behind the 10th Circuit Historical Society, in the law, and in IAALS. Greg has been a backbone of the Law Firm Council, helping us strategize, create value, and develop our network of law firm members. We at IAALS are so very grateful for Greg's quiet, upbeat brilliance; his equanimity; and his commitment to our work. Greg is one of those superhero partners that we talk about in our Annual Report. Thank you, Greg.
Earlier this month, we caught up with Greg to bring you April's Partner Profile.
What do you consider to be your greatest achievement? Hands down my greatest personal achievement was meeting my wife, Donna, 21 years ago; persuading her to marry me; and making our relationship work. She is a creative and artistic person and I constantly learn new things seeing the world through her eyes. On a broader scale, I feel fortunate that I've been able to help people in many contexts including extensive pro bono work.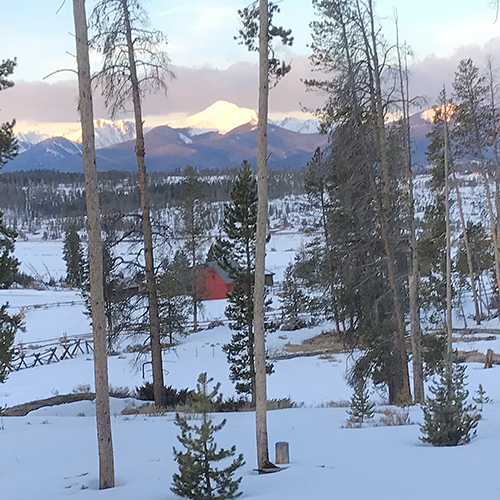 When and where were you the happiest? In 1969, my father bought a Colorado ranch property that he left to my seven siblings and me to share as our family getaway and gathering place. I go there often and love walking in the woods, skiing, and being outdoors. The last time we were there, the bluebirds and red-winged blackbirds had returned for the spring and flowers were starting to appear amid melting snow. I love to observe animals, plants, and the changing natural world.
Who is your favorite writer? I am a complete history geek after studying history in college. The detailed research by author Stephen E. Ambrose is wonderful. I especially like his book on the Lewis and Clark Expedition, Undaunted Courage, and Nothing Like It in the World, about building the Transcontinental Railroad. When I was in California, I visited Donner Pass where tunnels and snow sheds remain from the original railroad cut through the spine of the Sierra Nevada Mountains and was amazed by how laborers carved that route by hand.
With which historical figures do you most identify? I read Bobby Kennedy's 1000-page bio by Arthur Schlesinger when I was in college and it's always stuck with me. After growing up in a large Irish-Catholic family, I felt I had some insights into Bobby Kennedy's background. He lacked most of his brothers' character flaws and wanted to correct racial and economic injustice. When he was shot in 1968 shortly after Dr. Martin Luther King, Jr., was slain, I felt that we'd lost a brilliant leader. Teddy Roosevelt makes my list, too, despite his "Rough Riders" military conquests and conflicted role as both a naturalist and big-game hunter. As the conservation president, he helped establish our National Park system of which I'm a huge fan.
Who is your hero in real life? One of my mentors and heroes was Bob Frauson, a charismatic teacher and leader about whom I am writing a biography. When I was age 18-22, working as a seasonal ranger in Glacier National Park, I had the privilege of working with Bob. He was a legendary figure in the Army's 10th Mountain Division and later in the Park Service. When WWII began, Bob enlisted to train at Camp Hale with the mountain troops. He quickly became an integral part of that "band of brothers" and an expert in rock climbing, search & rescue, and snow and ice travel. After the war, Bob served as the Long's Peak climbing ranger in Rocky Mountain National Park and then the district ranger overseeing resource and visitor protection on the east side of Glacier. Bob's wisdom and grace came from years of observing and listening attentively to people, rather than books. He could learn from anyone. He inspired hundreds of co-workers and friends, and touched thousands of lives. Bob instinctively knew how to build cohesive teams, teach by example, and lead people so they would excel at every task.
What is it about IAALS that inspires your involvement and support? In our hyper-partisan world, IAALS convenes productive, nonpartisan discussions that address important and emerging issues. IAALS bridges ideological gaps in a thoughtful and constructive way, brings down the rhetoric, and gets people to talk about what matters. I'm especially proud of IAALS for helping bring the importance of the Rule of Law to the fore during these difficult times when some people advocate reducing our justice system's protections, and for the Court Compass project which will make navigating the courts simpler and better for non-lawyers.