IAALS Advances Justice With Lynnea Louison
January 29, 2019
IAALS simply would not be what it is without the support of our staff, partners, and friends. They are essential to our efforts and hail from a wide range of backgrounds, viewpoints, and sectors. Every month, IAALS shines the spotlight on one such person and takes you behind the scenes for a lighthearted glimpse into those upon whose guidance and support we rely. Together we are advancing justice.
Lynnea Louison, Senior Director of Operations at IAALS
Lynnea is our new Senior Director of Operations. She started in January, rounding out the management team here at IAALS. Most recently, she came to us from the Boettcher Foundation. She is a Daniels MBA, and an experienced manager. One of my favorite anecdotes about Lynnea came from her during the interviews—when asked to talk about a time when she went above and beyond for her job, she mentioned that during her tenure in management at Tony's Markets, she would offer to bus groceries during busy times. She mentioned how much she learned from the customers by doing that. I was taken by her humility, coupled with her skill set. That is the kind of people we hope to be at IAALS: willing to do what it takes, willing to listen, and committed to our team and our mission. We welcome Lynnea!
On day seven of her tenure, we caught up with Lynnea to bring you the most recent edition of Partner Profile.
What attracted you to come work at IAALS? Becky's story, her passion and description of the work gave me a sense of the importance of the mission and inspired me to come work here. It's important to me to feel compelled by the mission of an organization and, with my skills and experience, I look forward to supporting the great work of the organization.
What is your idea of perfect happiness? Sitting on a beach, hearing the water and waves, feeling the sun, not having to do anything—that is a great feeling. But I couldn't function like that for the rest of my life even if I won the lottery. So, first and foremost, knowing that my family, my son Miles (18) especially, is happy, healthy, safe and is growing up to be a good person. There are a number of things that make me feel balanced—relationships, health, home, physical activity, volunteering and giving back. If I could go through life without working, have the liberty to do all these things, and explore the world, I would be perfectly happy.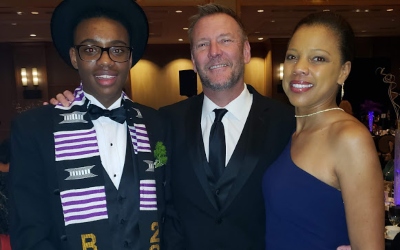 Tell us about your son Miles? He's a senior at Cherokee Trail High School, an athlete—plays soccer, football, basketball—he's active in his school's spirit and clubs, a musician, and now college bound. Miles serves on the Youth Advisory Board for the Young Americans Bank. And works as a caddy at the Denver Country Club. He's a very well-rounded and mature young man.
What volunteering do you do? I like to mentor kids. I am working with a couple of DU students right now but ideally I like working with little kids. Being around younger children, to provide the kind of relationship and environment to help their brains develop and grow, feel safe and happy, that's what I love.
What is the trait you admire most in others? Empathy. Leaders who demonstrate a high level of technical expertise along with empathy for those around them—that's what I aspire to and admire the most.
Who are your favorite writers and/or books? I have been reading a lot of Brene Brown lately. For example, Dare to Lead: Brave Work. Becoming by Michele Obama. It spoke to me on so many different levels. I found her ability to be humble and talk about her vulnerabilities so amazing and admirable. Hillbilly Elegy. It was the DU all-campus read and I found it to be an interesting eye-opening perspective. It made me think more deeply about where people come from; it re-emphasized how important mentoring is and how our divide in society is there for a variety of reasons. The Whiskey Rebels by David Liss. That's a fun one… Now you've got me going… Cutting for Stone… The Nightingale.
If you were stranded on a deserted island, what things would you have and why? One, Unlimited gourmet food; two, on-demand, live, 10-piece salsa band; and three, a little daycare where I could play with kids all day.
What historical figure do you admire most? Jesse Owens. His story is impactful for me. I was a track & field athlete growing up.
What do you consider your greatest professional achievement? Starting a business. The hardest thing I have ever done but definitely the most rewarding.