IAALS Advances Justice with Richard Holme
January 2, 2019
IAALS simply would not be what it is without the support of our partners and friends. They are essential to our efforts and hail from a wide range of backgrounds, viewpoints, and sectors. Every month, IAALS shines the spotlight on one such person and takes you behind the scenes for a lighthearted glimpse into those upon whose guidance and support we rely. Together we are advancing justice.
Dick Holme, Senior of Counsel, Davis Graham & Stubbs LLP; Current Member, IAALS' Dispositive Motions Working Group; American College of Trial Lawyers Task Force on Discovery and Civil Justice (2007 – 2015)
Dick Holme is a long, long time friend.  I started practicing law with Dick at Davis, Graham and Stubbs many years ago.  Our parents even knew each other prior to that.  While I was on the Court, Dick and I worked together on innovative projects, such as Rule 16.1.  Because of that relationship and my admiration for Dick, he has had an important role in the evolution of IAALS. 
When IAALS was just a glint in various eyes in 2005, I asked Dick what he thought we should concentrate on as we shaped our goals.  He said one word: Zubulake.  I had no idea what Zubulake was at that moment, but quickly acquainted myself.  It was the series of cases that, in some important ways, launched court involvement in and oversight of e-discovery.  Indeed, that subject matter was on IAAS' first task list, and we prioritized trying to assist courts and litigants in the process of making sure that e-discovery supports litigation rather than confounds it.  So, too, Dick was involved in the work of IAALS and the American College of Trial Lawyers Task Force on Discovery and Civil Justice, resulting in the ultimate Principles and Recommendations.  We spent days and days (many meetings over a span of years) with that group, and their contributions have been powerful and extremely impactful in the national civil justice reform movement. 
Thus, as we thank Dick for his involvement in IAALS, that thanks is profound.  It stretches all the way from thanks for his friendship and support – to thanks for the role he has played in making IAALS what it is and what it can be.
Earlier this month, we caught up with Dick to bring you the most recent edition of Partner Profile.
How did you initially get involved with IAALS?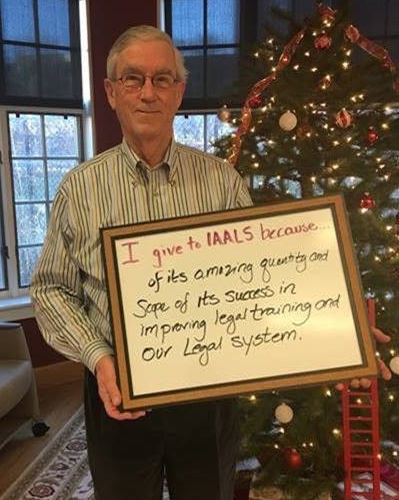 Becky and I go way back.  I learned she was going to be leaving the Colorado Supreme Court to start IAALS in 2006, and I think I literally chased her down in the hallways of the courthouse to share my concerns about e-discovery. She and IAALS took this project on very quickly and produced some immediate results. In 2009, as a fellow of the American College of Trial Lawyers, I joined the Task Force on Discovery and Civil Justice to improve the rules of civil procedure.   
What is your idea of perfect happiness?
Although I think that "perfect" may be a reach, I think my present life situation is at least as close as the real world may allow. So, I guess I would describe it as having close, long, and meaningful relationships with my wife and children, basic financial security, and opportunities to travel.
What is the trait you admire most in others?
Integrity. For me that includes honesty, compassion, and thoughtfulness.
What are your favorite books?
I find that there are a large number of books that qualify for my "favorite" books. Without going overboard, my list would at least include Shogun, Seabiscuit, Unbroken, I Am Pilgrim, The Boys in the Boat and Art of Racing in the Rain.
What do you consider your greatest professional achievement?
I have been blessed with working for a long time on the Colorado Committee on Rules of Civil Procedure. This Committee has been populated with a number of excellent trial lawyers, judges and judicial administrators who are deeply concerned with efforts to improve and upgrade civil rules in order to make cases more efficient and less expensive.
What inspires your continued involvement and support of IAALS?
IAALS and Becky Kourlis have accomplished more toward the improvement of the judicial system in less time than even the most starry-eyed of us could have imagined.  IAALS makes change happen in the legal system and in legal education.