IAALS and COCD Recognized by ABA for Improving Legal Access
March 21, 2017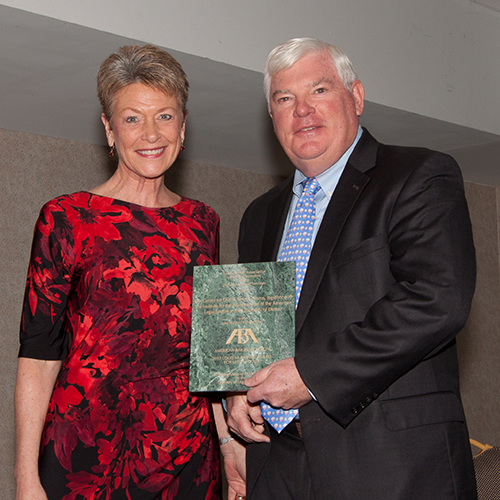 Last month in Miami, Florida, the Center for Out-of-Court Divorce (COCD), together with IAALS at the University of Denver, received Meritorious Recognition from the ABA Standing Committee on the Delivery of Legal Services in connection with its annual Louis M. Brown Award for Legal Access. The Committee cited that it was impressed with the Center's family-centered approach to divorce resolution.
The Louis M. Brown Award honors the work of organizations that improve access to legal services for those of moderate and middle incomes in ways that are exemplary and replicable. COCD and IAALS were recognized for our work in partnership with the legal system, our leveraging of interdisciplinary services, and our empowerment of parents going through a divorce to work together toward positive outcomes for their children. COCD Executive Director Sue Carparelli was on hand to accept the award, which was presented by the National Conference of Bar Presidents at the ABA Midyear Meeting. Sue also accepted an invitation to join a business meeting of the Committee and shared information about the initiative in an informal discussion.
This year, COCD and IAALS, along with two other organizations, were selected for Meritorious Recognition out of a group of 36 total nominees. The other organizations receiving Meritorious Recognition were the Maryland Courts Self-Help Centers for their work providing free legal help in civil cases for people who do not have a lawyer and The Pricing Toolkit based out of Chicago, which provides lawyers with practical guidance on alternative pricing options to help them deliver better value to clients of ordinary means.
The Louis M. Brown Award itself went to the Sustainable Economies Law Center in Oakland, California, for its work providing legal tools to communities to develop sustainable sources of food, housing, energy, jobs, and other vital community services.
COCD and IAALS are honored to join the ranks of the esteemed organizations recognized by the ABA Standing Committee on the Delivery of Legal Services in the past, and we congratulate this year's award winners and nominees for the outstanding work they all do.
Mark Staines is a second-year law student at the University of Denver Sturm College of Law and contributes to IAALS Online. Please direct inquiries about this post to iaals@du.edu.