IAALS' Annual Dinner Focuses on Causes of Public Dissatisfaction with the Courts
April 30, 2018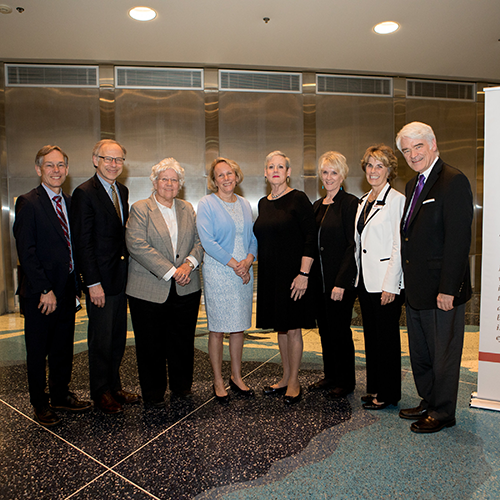 In Colorado, April 19, 2018, will forever be known as "The Conference of Chief Justices Day" thanks to an official proclamation by Governor John Hickenlooper. The proclamation was delivered at IAALS' annual Rebuilding Justice Award Dinner by Doug Scrivner, Chairman of the Board of Trustees at the University of Denver and IAALS Board of Advisors Member. And, the gubernatorial proclamation was just one piece of the evening.
The dinner centered around the Conference of Chief Justices (CCJ) and honored and celebrated their leadership and work to improve America's civil and family courts. The CCJ was also cited for supporting the goal of 100 percent access to justice. IAALS' video tribute showcased how the CCJ is moving our state courts forward to better serve people and our democracy.
IAALS Executive Director Rebecca Love Kourlis presented the Rebuilding Justice Award to Chief Justice Maureen O'Connor of Ohio, who is president of the CCJ. In her acceptance remarks, Chief Justice O'Connor observed that while the courts remain the most trusted branch of government, there is still work to do—six out of 10 people believe state court judges are out of touch with community concerns and 73 percent say delivering access to justice in rural courts is a problem.
The issue of declining confidence in the courts was the subject of another evening highlight: a fireside chat with several attending Chief Justices, which Kourlis moderated. She asked the Chiefs to discuss the issue of public trust and confidence in the judiciary from both historical and international contexts. The chat quickly turned to sources of distrust and what the bench and bar can do to stem the tide.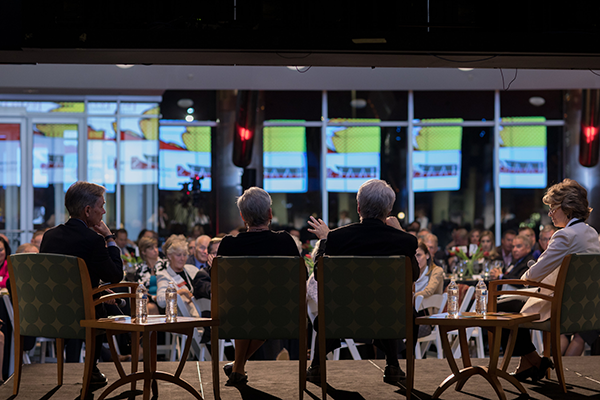 With the fireside chat as a backdrop, Kourlis announced that IAALS is launching a new effort to earn and bolster public trust and confidence in the judiciary. By conducting original research and analysis, IAALS will attempt to identify the drivers that are shaping current public sentiment about the judicial branch. Empowered with that knowledge, IAALS and others can then develop informed solutions designed to earn the public's trust and confidence. Kourlis also announced that recently retired Chief Justice Chase Rogers of Connecticut will consult with IAALS on the project. In the first phase, IAALS will examine the history of public trust in the courts, conduct original research into the landscape of opinions today, and convene members of the public and legal community to begin shaping actionable solutions in defense of justice. Kourlis said:
"While we may like to believe that we have the best legal system in the world, the reality is that many people feel disenfranchised, priced out, baffled by, and distrustful of our courts. Coupled with political attacks on judges, and legislatures attempting to curtail court power and jurisdiction, bolstering the public's trust and confidence in the third branch will require new solutions."
The table patrons for the evening included the Denver Broncos, Brownstein Hyatt Farber Schreck, Colorado Bar Association, Colorado Bar Association CLE, Denver Bar Association, DLA Piper, DISH, LexisNexis, Lewis Roca Rothgerber Christie, Moye White, El Pomar Foundation, Sherman & Howard, Wheeler Trigg O'Donnell, and Beth Bowlen Wallace. 
IAALS was honored to have seven chief justices travel from across the country to attend: Chief Justice Scott Bales of Arizona, Chief Justice Ruth McGregor (Ret.) of Arizona; Chief Justice Nancy Rice of Colorado; Chief Justice Chase Rogers (Ret.) of Connecticut; Chief Justice Maureen O'Connor of Ohio; Chief Justice Thomas Balmer of Oregon; and Chief Justice Nathan Hecht of Texas. The Rebuilding Justice Award is IAALS' highest honor and is given annually to individuals or organizations that exemplify the spirit of innovation and leadership that we champion as we work toward building an accessible, fair, reliable, efficient, and accountable legal system.