Increased Divorce Rate Tied to Economic Recovery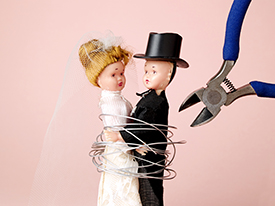 Historically, studies have shown a relationship between the rate of divorce and the overall well-being of the economy. The better the economic outlook the more likely unhappy couples are to separate and take on the daunting task of reorganizing their lives. This year, with the economy coming back from the "great recession," the divorce rate has spiked from its 40-year low in 2009.
Divorce is not the only thing tied to the economy—so is marriage. For every percentage point that the jobless rate in America rises, the marriage rate decreases 1.5 percent. As mentioned above, the divorce rate decreases as well but at a slightly higher rate of 1.7 percent.
Now that the economy is more stable, and people are feeling financially secure, those who were postponing divorce are starting to seriously consider it again. This has increased work for family law practitioners and the need for efficient and responsive models for divorce and separation—both in and out of court.
Riley Combelic is a second-year law student at the University of Denver Sturm College of Law and contributes to IAALS Online. Please direct inquiries about this post to iaals@du.edu.