Journal of Legal Education Highlights Importance of Foundations, Soft Skills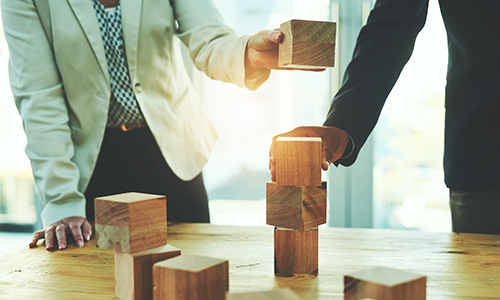 In 2014, the American Bar Association adopted new standards for law school accreditation called the ABA Standards and Rules Procedure for Approval of Law Schools, which focus less on bar passage and employment rates and more on student learning outcomes. These standards first applied to accreditation in the 2016–2017 academic year and required law schools to develop and assess programmatic student learning outcomes, resulting in some significant changes to law school teaching methods.
Recognizing this shift taking place in the legal education, the Journal of Legal Education's latest issue focuses on the ABA's new standards on assessments and the reaction of law schools who now need to understand best practices in designing student learning outcomes. Ideally, the editors write, law schools will use it as an opportunity to change their programs for the better.
Professor Sophie Sparrow's article, "Teaching and Assessing Soft Skills," highlights IAALS' Foundations for Practice project and the value of "soft skills" to a young lawyer. Sparrow references the project to support the notion that soft skills such as integrity, honesty, diligence, relationship building, listening, and other non-legal skills are vital for young lawyers to have, yet they are not being taught in law schools. Sparrow suggests that law professors should be teaching at least some of these top foundations in large, doctrinal classes, followed by basic principles for teaching and assessing these skills.
Many law schools already teach some of these skills in a category called "professionalism," seen in individual courses, orientations, and externship or clinical classes. Professors should mindfully incorporate these softer skills into their course's learning objectives, both verbally and in writing in the syllabus, which should include an explanation of why these skills are important—and as important as the other skills being taught. Professors must also assess these skills, such as by including a "professionalism" category in the grading breakdown for the course. To learn more about Sparrow's recommendations for teaching and assessing the "soft skills" defined by Foundations for Practice, read her full article here.
The full contents of the latest Journal of Legal Education include:
"Adoption of Student Learning Outcomes: Lessons for Systemic Change in Legal Education" by Steven C. Bahls
"Law School Assessment in the Context of Accreditation: Critical Questions, What We Know and Don't Know, and What We Should Do Next" by Judith Welch Wegner
"They're Back! The New Accreditation Standards Coming to a Law School Near You—A 2018 Update, Guide to Compliance, and Dean's Role in Implementing" by Susan Hanley Duncan
"A Simple Low-Cost Institutional Learning-Outcomes Assessment Process" by Andrea A. Curcio
"The 'F' Word: The Top Five Complaints (and Solutions) About Formative Assessment" by Olympia Duhart
"Teaching and Assessing Soft Skills" by Sophie M. Sparrow
"What Did They Know and When Did They Know It? Pretesting as a Means Setting a Baseline for Assessing Learning Outcomes" by Jeffrey L. Harrison
"Rescuing Pluto from the Cold: Creating an Assessment-Centered Legal Education" by Steven I. Friedland
"Flipping the Classroom to Teach Workplace ADR in an Intensive Environment" by Martin H. Malin and Deborah I. Ginsberg
"Book Review of Law Professors: Three Centuries of Shaping American Law by Stephen Presser" by Bernard W. Bell
"Book Review of Law Professors: Three Centuries of Shaping American Law by Stephen Presser" by Scott Douglas Gerber
"Book Review of Wrongful Convictions and the DNA Revolution: Twenty-Five Years of Freeing the Innocent edited by Daniel Medwed and The New Criminal Justice Thinking by Sharon Dolovich and Alexandra Natapoff" by Thomas Morawetz
Heather Buchanan is a third-year law student at the University of Colorado Law School and contributes to the IAALS blog. Please direct inquiries about this post to iaals@du.edu.