Judge Arguello on a Diverse and Inclusive Legal Profession: Si Se Puede
Associate Director of Communications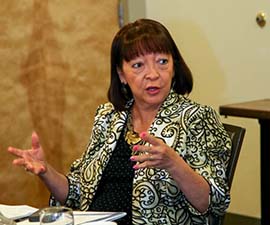 "Big dreams, hard work, and serendipity" are the words Judge Christine M. Arguello of the United States District Court for the District of Colorado would use to describe how she achieved her professional successes as a lawyer and judge. But, she also acknowledges the help of various mentors and the support of academic institutions along her way to becoming a federal judge. She believes (and is bolstered by the results of a recent Gallup poll) that without this help, diverse and economically challenged students do not stand as good a chance of achieving such academic and professional success.
In order to help the next generation, Judge Arguello founded Law School - Si Se Puede, a pipeline program that advances inclusiveness in the legal profession by equipping students with the skills they need for their journey to law school and beyond. The program selects highly-motivated undergraduate students who represent populations that are traditionally underrepresented in the law ( i.e., low-income students, students of color, and/or first generation high school graduates) and pairs them with three mentors each—a law student, a junior attorney, and a senior attorney—who commit to helping them through their undergraduate career and ultimately "demystify the process of applying to law school."
I believe if there is to be a more diverse and inclusive legal profession in Colorado, then everyone needs to play his or her part in helping to make it so, even if that means addressing it one student at a time.
Judge Arguello has been involved with Educating Tomorrow's Lawyers since its inception. To learn more about Law School – Si Se Puede, click here.