Justice Kourlis Delivers Commencement Address to DU Law Grads
May 23, 2016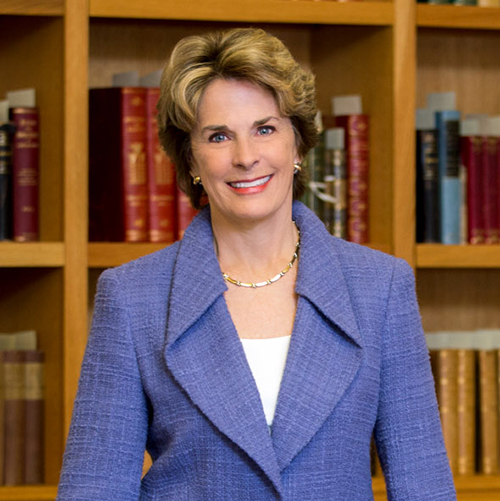 On Saturday, May 21, IAALS Executive Director and former Colorado Supreme Court Justice Rebecca Love Kourlis delivered the commencement address to the 2016 graduates of the Sturm College of Law at the University of Denver.
"The Sturm College of Law is committed to preparing ethically-minded, practice-ready graduates for today's legal marketplace," said Dean Martin J. Katz, who also serves on IAALS' Board of Advisors. "What better person to have speak to those graduates than Rebecca Love Kourlis, who made a lasting mark on the Supreme Court and now works to rebuild trust and confidence in the judicial system through important initiatives at IAALS. We are delighted that she will address our graduating students."
Approximately 240 law students received their Juris Doctor at the commencement ceremony and heard Becky unveil what it is new lawyers need to succeed, based on research findings from IAALS' Foundations for Practice project. She revealed that the keys to success are less about what graduates know or what grades they have earned. Rather, the keys to success are ultimately about who they are and what underlying characteristics they possess. Characteristics like conscientousness, trustworthiness, integrity, and initiative will fuel their journey and lead to excellence. 
"In other words, choose to be great. Luck will play a small role, but your actions will play an enormous role."
Hunter Metcalf is a recent graduate of the University of Colorado Law School and contributes to IAALS Online. Please direct inquiries about this post to iaals@du.edu.