Law School Deans Seek Equilibrium between New and Old Teaching Methods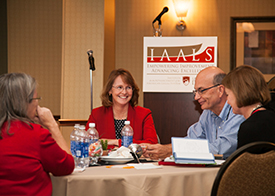 In The Docket, a monthly publication of the Denver Bar Association, Barbara Mueller discusses the 2nd Annual Educating Tomorrow's Lawyers Conference as a window into the ongoing discussions of legal education reform that are taking place nationwide.
At the session on "Pedagogy and Business of Legal Education Reform," a panel of law school deans from across the country discussed a number of such approaches that their law schools are undertaking. Panel participants included Dean Anthony Crowell of New York University Law School, Dean Patricia White of the University of Miami Law School, Dean Martin Katz of the University of Denver Sturm College of Law, Dean Marc Miller of the University of Arizona James E. Rogers College of Law, and Dean Rachel Van Cleave of Golden Gate University School of Law.
Mueller notes that the message from the deans was quite positive, and their commentary suggested a strong belief that "clear-eyed contemplation of the problems facing legal education can lead to the reforms necessary to resurrect it."
Mueller also notes that the deans reported seeing law students as re-engaged in the learning process, showing dedication and commitment to their future careers with renewed faith in a growing job market.
Katherine Kirk is a third year law student at the University of Denver Sturm College of Law and contributes to IAALS Online. Please direct inquiries about this post to iaals@du.edu.