Legal Aid Ontario: Promoting Access to Justice for Low-Income Families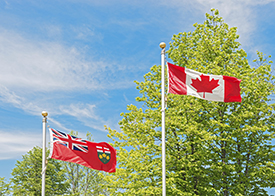 Legal Aid Ontario, established in 1998 by the Legal Aid Services Act, is an independent publicly funded organization that promotes access to justice for low-income individuals. The organization recently created programs that provide services to couples wishing to divorce as long as one individual makes less than $18,000 and the other does not make more than $50,000. If couples qualify, they are provided up to ten hours with a family lawyer to discuss details of the separation and to reach agreement if possible. An alternative option allows couples to access mediation services with up to six hours of legal consultation, which can include the drafting of a mediation agreement and obtaining a court order.
These programs are the biggest changes to legal aid in Ontario in the past decade and were hailed as "a whole different avenue that people can now access to resolve their family law problems."
Riley Combelic is a third-year law student at the University of Denver Sturm College of Law and contributes to IAALS Online. Please direct inquiries about this post to iaals@du.edu.