Measuring Innovation: AALS and Legal Education at the Crossroads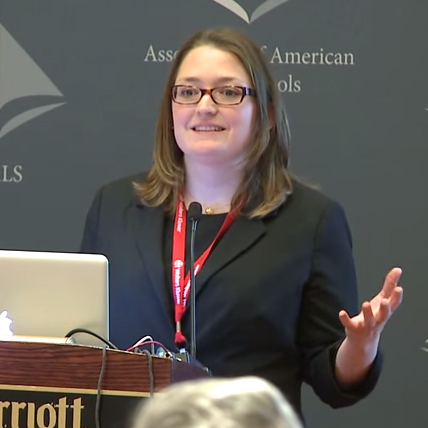 The 2015 Annual Meeting of The Association of American Law School (AALS), entitled Legal Education at the Crossroads, provided much discussion around the critical choices facing law schools.
Alli Gerkman, Director of Educating Tomorrow's Lawyers, was on hand and served as a panelist regarding The Future of Educating Effective Lawyers. She stressed that while law schools are testing innovative new methods of training students, these efforts must be conducted with an end goal in mind and should be measured to ensure their success. "If innovation isn't measured," she said, "does it actually matter?" Law schools and legal educators should continue to track data, use it, and to share it so that the legal community at large can learn from each other's successes and failures.
Gerkman also spoke about Educating Tomorrow's Lawyers' Foundations for Practice and its national survey that sets the stage for future recommendations surrounding the competencies, skills, characteristics, and qualities that new lawyers need to be ready for practice. And, she stressed the need for collaboration between law schools and the profession to help get us there, with examples like the Daniel Webster Scholar Honors Program.
Members of the Educating Tomorrow's Lawyers Consortium were also a part of the meeting, and served as panelists on a variety of issues. Highlighted speakers from member schools included:
Hunter Metcalf is a second-year law student at the University of Colorado Law School and contributes to IAALS Online. Please direct inquiries about this post to iaals@du.edu.