A Night of Celebration and Surprises at IAALS' 2014 Rebuilding Justice Award Dinner
May 2, 2014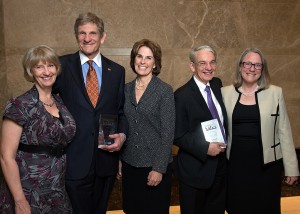 On April 24, 2014, IAALS was pleased to host its 7th Annual Rebuilding Justice Award Dinner at the Ralph L. Carr Colorado Judicial Center in downtown Denver. Joined by 150 local and national leaders, innovators, and stakeholders in the American legal system, we paid tribute to two long-time champions of IAALS and our mission: University of Denver Chancellor Robert D. Coombe and Colorado Supreme Court Chief Justice Michael L. Bender (Ret.).
The evening was capped by surprise video introductions for our esteemed honorees, filmed by their wives, who each told the story of their husband's enduring passion and dedication from a uniquely personal perspective.
For those of you who were unable to join us, you can view the videos below and click here to browse some photos from the event. We look forward to seeing everyone again next year!
The Rebuilding Justice Award Dinner recognizes individuals who exemplify the spirit of innovation and leadership that we champion across all of our work toward building a legal system that is fair, accessible, reliable, efficient, and accountable.
The first recipient of the IAALS Rebuilding Justice award was United States Supreme Court Justice Sandra Day O'Connor (Ret.) in 2007. IAALS has given the award to former chief justices of state supreme courts, legislators, federal district court judges, and legal educators.