Oregon Task Force Tackles Civil Justice Initiative Recommendations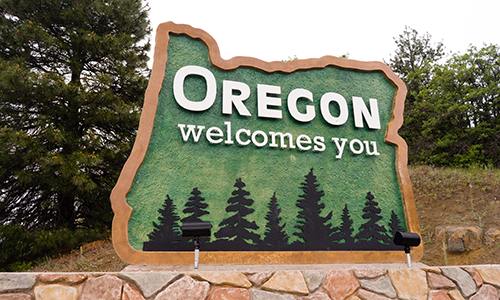 The State of Oregon continues to blaze a trail in civil justice reform. A new report from the Oregon Judicial Department (OJD), released at the end of June, contains recommendations to improve civil justice in the state, and it provides a master class for other states looking to reform their own systems.
By way of background: in 2016, the Conference of Chief Justices Civil Justice Improvements Committee (CJIC) released a report that provides specific recommendations for how states across the country can reduce cost and delay in civil litigation. Entitled Call to Action: Achieving Civil Justice for All, the report contains thirteen concrete and detailed recommendations to improve state civil justice systems. IAALS provided support and expertise to the CJIC throughout their work on this report.
The CJIC was chaired by Chief Justice Thomas A. Balmer of the Oregon Supreme Court, so it is natural that Oregon is one of the first states to react. In August 2017, Chief Justice Balmer established a Civil Justice Improvements Task Force to review the Call to Actionreport and make recommendations about how it could be applied to Oregon's court system. The creation of the Task Force was also inspired by the three-day Western Regional Summit hosted by IAALS and the National Center for State Courts, where states learned from each other's reform efforts.
The Task Force dove right in and took only ten months to issue a thorough report. It first reviewed Oregon statewide trial court statistics to understand the characteristics of Oregon state court dockets, as recommended by IAALS' and NCSC's Roadmap for Implementation of civil justice reforms. Drawing upon this landscape, the Task Force worked through each of the thirteen Call to Action recommendations in order, considering how each point in Call to Action could best be applied to Oregon courts. The Task Force's report is impressively detailed but still focuses on big-picture principles, never losing sight of the forest for the trees.
In all, the Task Force supplied dozens of recommendations to shore up system-wide inefficiencies and overcome a number of obstacles to achieving civil justice. For instance, the Task Force made several recommendations about how judges can enhance procedural fairness and avoid falling into the trap of treating attorneys better than self-represented litigants. Recognizing that OJD's budget has been cut in recent years, the Task Force gave a number of low-cost suggestions to rebuild the state's judicial and staff training programs. And, coming on the tail of a new Oregon statute, the Task Force recommended a new court rule to better protect consumer debt defendants.
Of course, Oregon already was a leader in civil justice reform and, unsurprisingly, the state had previously implemented several practices highlighted in the Call to Action report. For example, Oregon's Uniform Trial Court Rule (UTCR) 7.020 is a boon to case management, as it establishes mandatory deadlines and procedural steps to prevent civil cases from lumbering through the system. And Oregon already has systems to streamline cases into pathways under a variety of statutes and court rules, such as UTCR 5.150 for expedited jury trials. But the Task Force realized that some of these procedures were not being used consistently to realize their full potential.
The Task Force set out to remedy that. It noted, for instance, that firm trial dates under UTCR 7.020 are often undercut by continuances issued under a vague "good cause" standard, so it recommended that courts adopt uniform and transparent guidelines for issuing continuances. The Task Force also found that attorneys hesitate to use Oregon's expedited jury trial procedure because of concerns about discovery limitations and short timelines, so it recommended several amendments to the rule to make it more attractive and user-friendly.
We applaud the Task Force's industrious work ethic to tackle many issues that hamper the civil justice system. We are eager to see other states follow suit by implementing the Call to Action report recommendations in their own courts.