Procedural Fairness a Highlight of 2014 Utah State of the Judiciary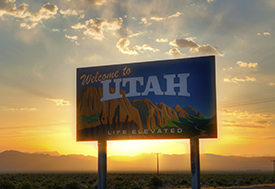 A 93% satisfaction measure is not something you see every day. And, it is even more unusual in circumstances where people reporting such a high percentage account for both winners and losers, which is exactly why Chief Justice Matthew B. Durrant focused on this measure during his 2014 Utah State of the Judiciary Address. The statistic came from a Utah State Court survey conducted last summer, given to litigants, lawyers, witnesses, and others, where 93% of respondents reported they were satisfied with their experience at court that day.
Chief Justice Durrants's explanation for the measure can be summed up in two words: procedural fairness.
The elements of procedural fairness are voice, neutrality, and respect. Voice means the ability of court participants to express their viewpoints. . . . Neutrality means just that—consistently applied legal principles, unbiased decision makers, and a "transparency" in how decisions are made. Lastly, respect, meaning individuals are treated with dignity and their rights are affirmatively protected.
To get to the 93% satisfaction rating, Utah has committed itself to procedural fairness and uses performance measures to teach judges how to make it possible in every action that comes before them.
The Address also touched on other initiatives the Utah judiciary has taken to continually improve. "The business of resolving disputes isn't easy work, but it's important work—important to the individuals involved, important to our community, and important to our society." Utah aims to be responsive to feedback from court users and adheres to certain core principles—three of which were outlined:
Accessibility: In an effort to increase accessibility, the Court maintains a Self-Help Center that served over 16,000 people; it updated the Online Court Assistance Program that helps prepare fully fixable documents; it has Pro Bono and Modest Means programs for those without the funds needed for legal representation; and it provided translators for 47 different languages.
Efficiency: Having just under 900,000 cases, the Court continued to make itself as efficient as possible. In order to do so, it implemented an electronic court record system that allows for e-filing, e-payments, e-warrants, and online real-time access to dockets, documents, and data.
Transparency: The Court has used public opinion polls, relevant performance measures, court user surveys, the publication of the Judicial Performance Evaluation Commission reports, and media accessibility—including televised case proceedings—to increase transparency.
The people of Utah, as well as the data collected thus far, indicate that the Utah State Courts have set high benchmarks in a number of areas. Hopefully, many other states will take note of their efforts and successes and seek to replicate them.
Riley Combelic is a third-year law student at the University of Denver Sturm College of Law and contributes to IAALS Online. Please direct inquiries about this post to iaals@du.edu.