The Promise and Reality of Equal Access to Justice
Although the idea of equal protection under the law has long been at the heart of the American legal system, equal access to justice is still not a reality for many people. Former American Bar Association President Robert J. Grey Jr. discusses this equal justice gap in a recent piece for the ABA Journal. Grey also discusses how the gap is most prominent on the civil side where litigants are not guaranteed representation and often cannot afford the cost of hiring an attorney on their own. This gap is also felt by the courts, which sometimes struggle to resolve cases fairly and efficiently when so many litigants are unrepresented.
To study how low-income Americans find and receive help for their civil legal needs, the Legal Services Corporation published a report last year called The Justice Gap: Measuring the Unmet Legal Needs of Low-income Americans. Some of the report's findings include: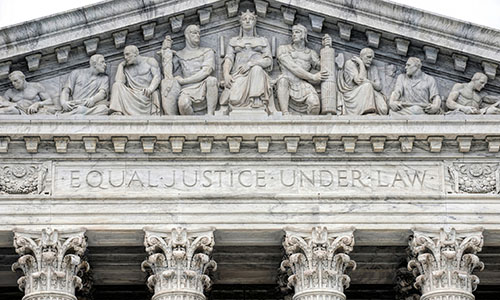 Around 60 million Americans qualify for LSC-funded civil legal aid;
Almost three out of every four low-income households faced at least one civil legal problem in the last year, and one out of every four low-income households faced six or more civil legal problems in the last year;
Eighty-six percent of low-income Americans facing civil legal problems received inadequate or no help; and
Low-income Americans only sought legal help for 20 percent of their civil legal problems.
As we frequently discuss at IAALS, self-represented litigants are in need of solutions to better navigate our court system—including improved access to legal advice and representation. When litigants have representation, they have a better chance of succeeding in their claims. At the same time, we know that approximately 75 percent of civil cases and 70–80 percent of family cases in our state courts involve a self-represented litigant, so it is essential that that we simplify the process and develop on-demand court assistance services.
Organizations like the American Bar Association and the Legal Services Corporation have recognized the importance of narrowing this justice gap and working hard in support of innovative technology and increased pro bono work from the legal community. Grey recognizes, however, that while these are important, our country's civil legal aid programs remain "chronically underfunded."
"We are not keeping full faith with a founding principle of our country. There is a reason that equal justice is a core American value. It is essential to our democracy. When a majority of people believe they cannot secure a lawyer or have meaningful access to the court system to resolve their disputes fairly and justly, they lose confidence in the rule of law, the foundation of not only our justice system but of our democracy as well."
Heather Buchanan is a third-year law student at the University of Colorado Law School and contributes to IAALS Online. Please direct inquiries about this post to iaals@du.edu.