Sandra Day O'Connor Inducted in Arizona Women's Hall of Fame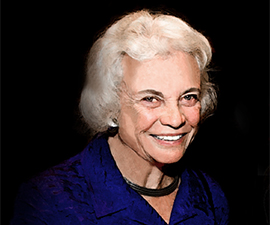 On March 12, retired U.S. Supreme Court Justice Sandra Day O'Connor was inducted in the Arizona Women's Hall of Fame as a Living Legacy. The Hall of Fame "pays tribute to the remarkable women whose contributions to the arts, athletics, business, education, government, the humanities, philanthropy, and science, have played a significant role in the history of Arizona, and provide a significant contribution to the historical record of the State of Arizona." Justice O'Connor was raised on a ranch near Duncan, Arizona, and was selected for her "decades of work as a judge and her legacy as the first woman appointed to the nation's highest court."
The ceremony took place at the Arizona Historical Society Museum in Tempe, Arizona. Justice O'Connor was joined by fellow Living Legend inductee Elizabeth Ruffner, a historian and writer who has fought to preserve much of Arizona's history and promote the state's open spaces and art. Other inductees included: Marietta Bryant, Daisy Moore, Lorraine W. Frank, Louise Foucar Marshall, Helen K. Mason, and Lucy Sikorsky.
Justice O'Connor launched the Quality Judges Initiative at IAALS in 2009, and worked with IAALS to develop and produce the O'Connor Judicial Selection Plan, a four-part recommended process for selecting and retaining state court judges who inspire public trust in our courts and the integrity of their decisions.
Hunter Metcalf is a second-year law student at the University of Colorado Law School and contributes to IAALS Online. Please direct inquiries about this post to iaals@du.edu.