Setting Goals to Improve Access to Justice for Self-Represented Litigants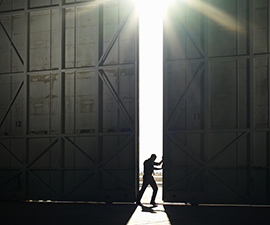 In a recent blog post, Richard Zorza shares some thoughts on improving services for self-represented litigants in the United States. Zorza, coordinator of the national Self Represented Litigation Network (SRLN), believes that the legal system must set real goals for addressing the issue. He cites Volvo's ambitious goal of reaching a zero injury and fatality rate for their new cars by 2020. The attainability of the goal is not the point; instead, creating a system of thinking that is centered upon an aspirational goal is the way to ultimately work in direction of meaningful change. According to Zorza, the legal system needs similar focus.
So the obvious question is this: What similar realistic, but challenging goals could we set for access to justice—goals that would require long term strategic thinking, and that recognize that system problems require systemic solutions.
Some are already thinking in this manner, including the SRLN, which "has made a commitment to help facilitate the development of self-help centers in every state by 2020, and to ignite local and regional dialogues on how to connect self-represented litigants with attorneys providing limited scope services."
Additionally, Zorza posits more specific goals for increasing access to justice:
No unintentional defaults in our court.
Plain-English and easy-to-use free online form systems.
Judges who are fully trained in handling cases involving self-represented litigants.
An Access to Justice Commission or equivalent in every state.
Accessible and functioning referral system for unbundling cases.
Self-help services in all courts.
Zorza believes that using these goals and monitoring progress forward is a step toward realizing an even greater goal for our legal system: no cases wrongly decided because of lack of access to assistance during the process.
IAALS Advisory Board Member Judge Kevin Burke recently highlighted Zorza's thoughts, calling him "one of the legal system's most profound thinkers about how we can provide better services to self-represented litigants." IAALS is a member of the SRLN's Research Working Group.
Hunter Metcalf is a second-year law student at the University of Colorado Law School and contributes to IAALS Online. Please direct inquiries about this post to iaals@du.edu.